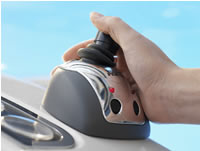 When it comes to Friday, our thoughts are drawn to life on the sea with the inevitable weekend sojourn to Monte Carlo (doesn't everyone weekend there?).
Did you know that Yacht owners can be very snooty about those who own motor launches – floating gin palaces is what they call them. I've never figured out if this is a class-thing, or jealousy, but I do know that they are dismissed as flash-Harry's. Yachties take tremendous pride (probably correctly) in controlling their craft, having invested years to learn the fine art. As far as they see, motor boat owners turn up, turn the key and drive off – far too easy, with not enough suffering.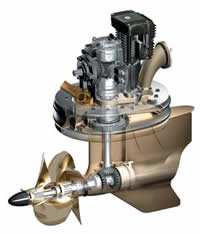 The latest innovation from Volvo Penta is bound to add extra ammunition to the yacht-owners dislike of Motor boats and their owners. It looks like it makes it a doodle of maneuver a boat, with almost super-human skills.
They've launched the IPS, complete with joystick, designed to ease the handling of motor boats. The Inboard Propulsion System, to give it it's full moniker, enables the captain to finely control the boats movements by twiddling a joystick.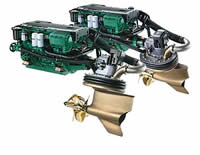 They've taken the idea beyond simple X-Y joystick movements to incorporate a twisting action and a couple of buttons. X-Y provides the obvious forward/backward, plus an interesting side-to-side action, which doesn't swing the boat around, but literally slides it sideways – neat.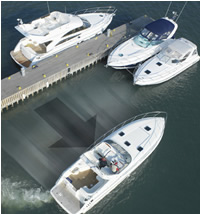 The joystick's twisting action rotates the boat, seemingly on a six-pence, in either direction, right or left – again, most impressive.
The joystick is only part of it. The rest of IPS secrets are hidden under the boat using what those in the know would call 'two forward-facing contra-rotating propellers per unit'. To you and me, that's a couple of engines that you can point in different directions.
With the engines able to act independently, when combined with the joystick, the IPS provides the ability to maneuver with tremendous precision.
We looking forward to getting our hands on it for a full review and are think which of the Digital-Lifestyles boats would benefit from retro-fitting this.