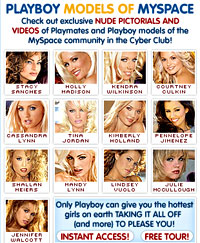 The kids may love it, but concerns are growing over social-networking sites like MySpace.com which encourage young users to build ever-larger circles of friends.
Media mogul Rupert Murdoch forked out $580 million for MySpace last July and the site is now the undisputed big daddy of all U.S. web community sites, holding nearly 50 percent of the market share – 10 times more than any single rival site, including Yahoo, Craigslist, Facebook, and LiveJournal.
Recent newspaper headlines have led to some authorities claiming that the site is a magnet for adult sexual predators, with Connecticut Attorney General Richard Blumenthal already investigating a number of sexual assaults with links to MySpace.
"What's troubling is the pornography and the access by children," Blumenthal told ZDNet.
Much of the problems are related to teenagers putting up far too much personal information about themselves, making it easier for web weirdos, sleazy stalkers and other undesirables to make contact.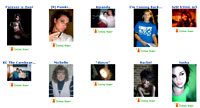 Last week, authorities in Santa Cruz, California arrested a 26-year-old man on suspicion of felony child molestation after he met a 14-year-old high-school student on MySpace.
According to a spokesman for the Santa Cruz County sheriff's office, the suspect had claimed he was 15, 17 and 26 years old in online conversations that led to several meetings.
MySpace has also been associated with murders in Baltimore and New Jersey, as well as rape and child molestation cases in Texas, Connecticut, Hawaii and California.
Playboy campaign
Playboy's current campaign, "the Girls of MySpace", solicits naked photos from the site's users who are "18 or older," for possible publication in the magazine, with the company offering discounted membership to its online club for MySpace members.
Here's the tacky online blurb from the Playboy site:
When we cast our 'net looking for the sexiest Girls of MySpace, we had no idea the response would be so overwhelming. Hundreds of sexy submissions have already come in, and there's no sign of letting up. Before Playboy's all-original Girls of MySpace pictorials unfold this spring, we'll be showing you a daily updated submissions gallery. Rate the candidates and when you're done check out users' outrageous online hookup stories.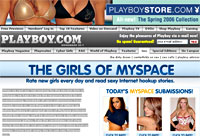 With promotions like this, it's not surprising that the site is proving attractive to older predators seeking to exploit young members.
MySpace says that their users have to be at least 14 years old and are required to fill out an online form that includes their date of birth (like a 13 year old is going to take much notice of that!) – but with no effective screening or enforcement mechanism, we can see more trouble ahead.
The company claims that it uses an automated search engine and a team of 100+ workers to sift through the "tens of millions" of profiles to pick out potential minors, but added that members need to recognise "the public nature of the Internet."
Perhaps parents need to understand the 'nature of Murdoch' and his News Corp organisation too?