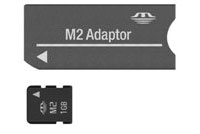 If you've owned a few digital cameras or PDAs and switched brands a couple of times over the years, you'll probably already have a formidable collection of non-compatible memory cards wasting away in your drawer.
Looking around our office, we've acquired a mighty pile of chunky compact flash memory cards, Sony memory sticks in various flavours, SD cards and the fairly obscure XD format that was forced on us when we fell in love with the Fuji F11 camera.
Lord knows how much that lot costs us, but it looks like we might have to be dipping into our pockets yet again after Sony have released yet another version of their Memory Stick.
Designed for use in cellphones, the new Memory Stick Micro M2 measures in at just 15 x 12.5 x 1.2mm (about 1/4 the size of the Memory Stick Duo) and is set to compete against similarly Lilliputian formats like the MicroSD, MiniSD and TransFlash memory cards (an 'M2' adaptor will let users fit the new cards into Memory Stick PRO slots).
Developed by Sony and SanDisk the new card will ship in March and initially come in storage capacities of 256MB, 512MB and 1GB. In theory, the new Micro M2 cards will eventually be able to offer up to 32GB capacity.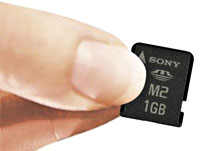 Much as we hate to give any kudos to yet another memory card format, that's a mighty impressive capacity and offers enough storage space to turn mobile phones into fully fledged, iPod-worrying MP3 players.
As is often Sony's way, we expect consumers are unlikely to be given much choice whether they want to use the format or not with forthcoming Sony Ericsson handsets already using the format.
With the exception of occasional appearances on third party cameras and laptops, none of the various Memory Stick formats have found much favour with other manufacturers, so anyone tempted by the Sony Ericsson's new range will have to fork out for yet another memory card format.
Thanks Sony.