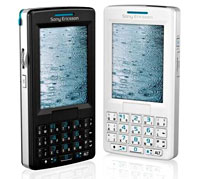 Sony Ericsson have announced their new M600 handset, a tri-band (900/1800/1900 plus UMTS 2100 for 3G data outside the US) jobbie, with Symbian OS 9.1 and UIQ 3.0 operating systems.
Measuring a pocket unruffling 15 mm thick, the 3G-capable communicator sports a Blackberry 7100x style dual function QWERTY keyboard and a large, touch-sensitive, 2.6-inch 240×320 262K colour display.
The dual function thumb-board offers continuous spell checking and word completion, with input aided by a 3-way jog dial and handwriting recognition.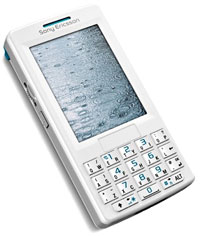 Touted as a "fully-specified email tool and mobile phone", the handset offers true multitasking, so a user can, for example, browse the Internet while chatting away on the phone.
The onboard push email applications and remote synchronisation options should please the swivel-action office crowd, with support for AlteXia, Ericsson Mobile Office (EMO), iAnywhere OneBridge, Intellisync, Microsoft Exchange ActiveSync, RIM – BlackBerry Connect , Seven, Visto and standard email.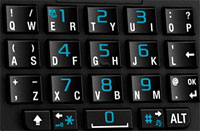 For road warriors and shuffling suits, there's the facility to read and edit PowerPoint, Word and Excel documents and Adobe PDF files on the move, with the popular Opera 8 browser provided for surfing the Internet.
For storing email attachments and multimedia content, there's 80MB of internal memory, with Sony bundling in an additional 64MB Memory Stick in their new, teensy-weensy, bound-to-lose-it-in-seconds Micro M2 card format.
The built in media player offers support for MP3, AAC, ACC+, E-AAC+ and m4a, streaming audio and video playback 30 fps with Stereo Bluetooth support.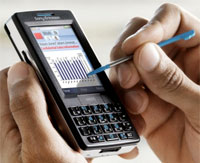 In line with its business focus, there's no built in camera, and Wi-Fi is an unfortunate omission too.
For some reason we kept thinking of a Spectrum ZX-80 when we looked at the phone, but I guess that's no bad thing.
Sony Ericsson will be making the new phone available in Granite Black and Crystal White from Q2 2006.