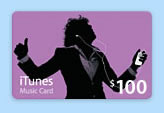 Apple have announced a competition to become the downloader of the 1 Billion th music track on iTMS.
Just over a year ago we put out a brief piece expressing our frustration at Apple making a PR splash every time it sold another 100m tracks. Our plea … don't worry about telling us until the next figure was significant.
Well it looks like that day is fast approaching.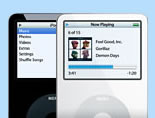 At the time of writing, we see on the live track count that they've sold just short of 950,981,000 tracks.
The prize for the 1Bn th track is well worth winning
1 x 20-inch G5 iMac
10 x 60GB iPods (5 white/5 black)
1 x U.S. $10,000 iTunes Music Card (good for any media type)
On the back of the billionth hoopla, is the plan to reward track purchasers every time a 100,000 song is hit, which provides
1 x 4GB black iPods nano
1 x US $100 iTunes Music Card
which is also not to be sneezed at.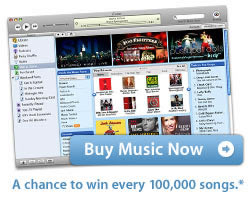 You know we like to save you money when we can and for those with sharp eyes, you'll see near at the bottom of the page in light grey (thanks Apple), "*No purchase necessary to win. Click here to submit a free entry form." Following the link takes you to the form telling that you can indeed make up to 25 free entries a day. We're not sure on the US rules for competitions, but we know in the UK that free entry is essential when there's no skill involved with entering the competition.
Best of luck – and let us know if you win!
iTunes Billion Songs Countdown
Free entry form – iTunes Billion Songs Countdown