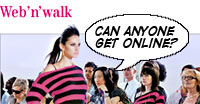 T-Mobile was told to see the headmaster and returned with a derrier rouge after making exaggerated claims about its "web'n'walk" mobile Internet service.In a wave of PR-driven hyperbole last October, T-Mobile claimed that their Service – which let customers access the web from their mobiles – would "redefine the mobile Internet market" letting people access the net "Internet wherever you are". (You may also remember that at the time Guy Kewney wondered if Google were behind the service).
Arch-rivals Orange clearly didn't like the look of this new service and lobbed a sizeable spanner in the works, lodging an objection with the Advertising Standards Authority (ASA) on the grounds that T-Mobile had overstated the availability of the service.
Orange gleefully pointed out to ASA that with T-Mobile only managing 86 per cent coverage in the UK, the advert was giving a false impression about the availability of the service.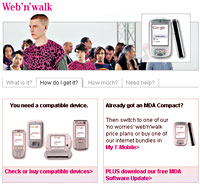 T-Mobile had a valiant stab at a defence, arguing that their advert was all about making the distinction between Ye Olde Crappe WAP and their new, full Internet-access, web'n'walk service, adding that they had included the line, "subject to coverage".
The ASA was having none of it, despatching T-Mobile's team with a plague of fleas in their ears, firmly pointing out "the unconditional and geographical nature of the phrase, 'the Internet wherever you are'."
As heads lowered amongst the T-Mobile team, the ASA statement continued: "We considered the use of such unconditional language to be contradictory to the qualification stated in the coverage disclaimer."

To the sound of a salvo of slapped wrists, the statement concluded that the ad, "was misleading because readers were likely to interpret the claim to refer to geographical network coverage. We told T-Mobile to avoid making such unconditional claims in future advertising."
(PS. Don't tell Orange, but T-Mobile's website is still making the claim, "Stay one step ahead with web'n'walk and access the Internet wherever you are.")
Elsewhere, big-boy ISP Wanadoo also felt the harsh crack of ASA leather as it was criticised for ads promoting its "up to 8Mb" service which were seen to fall far short of its claims.