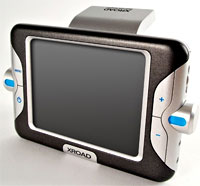 International men of mystery, jet setters, globe-trotters and drug smugglers might just be the niche group targeted by Carpoint's world-spanning navigation system.
As far as we know, this is the world's first car (or mobile) GPS system with the capability to guide users through a huge variety of countries and continents, with the attractive looking device loaded with a total of 24 maps covering the USA, Europe, Australia and – naturally – Korea.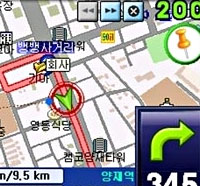 Called the XRoad Paris (but, thankfully, no relation to the cash-rich, time-rich airhead of the same name) the device can guide users through nation after nation in a choice of seven languages.
The $600 XRoad GPS system comes in a rugged-looking silver case with two buttons either side of the LCD screen offering access to power on/off, menu (on the left side) and zoom in/out (on the right side).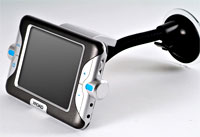 We assume the two chunky buttons each side of the screen are for making onscreen selections and scrolling through the map, but seeing as babelfish packed up mid-way through our attempt at a Korean translation, I guess we'll never know.
We can tell you, however, that there's also a windscreen/dashboard kit available for unit.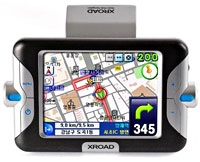 We can't think of any over-riding reason why anyone would need a GPS unit stuffed full with half the world's maps, but it's certainly a well styled model and its encyclopedic knowledge of the world's cities might come in useful in a pub quiz at the very least.
Seeing as we can't understand a word of Korean, we haven't a clue about availability or pricing at the moment.