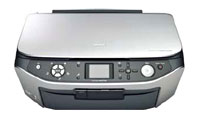 It won't be long before kids think that "going to the chemists for some prints" is some kid of euphemism for scoring drugs, but with the onslaught of cheap digital cameras and high quality printers, the writing's on the wall for the print developing business.
Keen to hammer a few more nails into the printer's coffin is the new Stylus Photo RX640, an advanced all-in-one printer aimed at photo enthusiasts.
Like a mini photo-lab in a box, the Epson RX640 is a sophisticated do-everything photo centre offering printing, copying and scanning functionality.
The multifunction device lets users print, scan and copy direct from memory cards, PictBridge and USB DIRECT-PRINT digital cameras.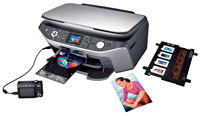 Images can be read from a built in CD-R drive for printing, with high quality scanning afforded courtesy of a 3200 x 6400 dpi MatrixCCD scanner scanner.
Images can be printed out from images stored on USB flash memory devices, with an optional Bluetooth module letting users print directly from suitably enabled mobile phones.
A neat function lets users print their own designs directly onto the surface of inkjet printable CD's.
There's an integrated transparency unit for scanning and printing directly from positive and negative film sources with Epson's Easy Photo Fix technology claiming to automatically "restore colour to faded photos and film."
The built in software also includes a dust and scratch removal function for negative and positive film scans.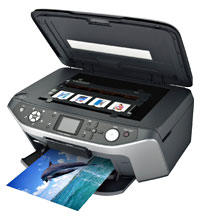 Users can monitor what's going on through a high definition (256 ppi) 2.5 inch colour LCD preview monitor, with a USB port for backing up data on to external storage devices (such as CD-R/Zip drives).
The printer uses six individual ink cartridges to help reduce running costs (although replacement ink cartridges will no doubt remain eye wateringly expensive), with Epson's PhotoEnhance technology automatically detecting image types and adjusting image brightness and contrast accordingly.
Tracey Leslie, Consumer Product Manager – General Purpose Inkjets and All In Ones for Epson UK was on hand to big up the product: "The Stylus Photo RX640 builds on Epson's strong offering in the all-in-one category. With premium photo quality output and exceptional scanning and standalone features, this will appeal to photo enthusiasts at all levels of experience."
The Epson Stylus Photo RX640 will retail for around £230 ($410, €338).