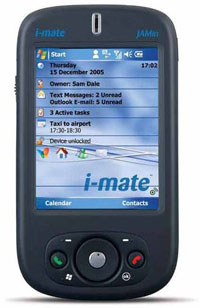 A week ahead of its scheduled launch, smartphone bigwigs i-mate have revealed details of their latest model, the JAMin.
Despite its name, the PDA/phone doesn't come with Bob Marley ringtones or blow sweet wafts of 'erb in the owner's direction, but certainly offers redemption in the spec department.
According to i-mate's site, the JAMin has a top rankin' set of features, offering quad-band (850/900/1800/1900MHz) GSM/GPRS/EDGE, 64MB of RAM and 128MB of ROM.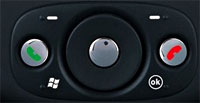 Switching from a 416 MHz Intel processor to a 200 MHz TI processor (we know it sounds like it must be slower but they're not directly comparable), i-mate have stuck with the JAM form factor, adding a different button layout and twice the ROM.
With Bluetooth 2.0 and 802.11g Wi-Fi connectivity onboard, there shouldn't too much waiting in vain, with the PDA-style smart phone purring along on Windows Mobile 5.0.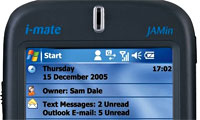 Also known as the HTC Prophet (and O2 XDA Neo), the phone shouldn't stir it up in the pocket department, measuring a compact 10.8 x 5.8 x 1.8cm and weighing 150g. Memory expansion is taken care of courtesy of a SD IO slot
Powered by a 1200mAh battery, the JAMin comes with a large 2.8in, QVGA (240 x 320 pixel), 65k-colour display.
Users looking to shoot the sheriff can take advantage of the two-megapixel camera – with macro shooting mode – fitted on the back of the phone.
We're couldn't get any positive vibrations out of the rubbish camera provided with its predecessor, the JAM, so let's hope i-mate have stirred it up in the resolution department.
The JAMin is expected on the streets of Babylon soon for around £440 ($770, €643) without an airtime package.