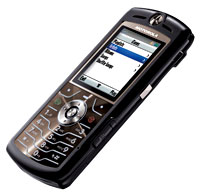 Four months after releasing their first iTunes-enabled mobile phone, the disappointing Motorola ROKR E1, Motorola have had another stab at creating the perfect music phone.
Their new, none-more-black SLVR L7 is a slinky non-folding affair, with a design reminiscent of the box-shifting RAZR clamshell phone.
Motorola are hoping that that the new handset will go down better than the ROKR E1, whose well documented shortcomings pinned sales around the 84,000 mark last year – compare that figure to the tens of millions of RAZRs that flew off the shelves in the same period.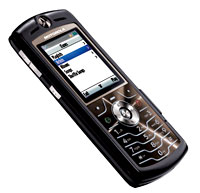 The biggest complaint was the laughably feeble memory on the ROKR that could only hold a maximum of 100 iTunes songs – regardless of memory capacity – and a treacle-slow song transfer rate.
Crazily, the SLVR L7 doesn't fix these sales-losing issues, and comes with the same ridiculous storage limitation for iTunes files and the same Ye Olde Super-Slowe USB 1.1 connection.
Someone's 'avin' a laugh, surely?
Looking at the spec sheets, things get even worse, with the handset lacking the useful music-oriented features seen on the ROKR – there's no external stereo speakers or dedicated headphone jack, so 'phones have to be plugged into the charging jack via an adapter. And that's rubbish.
At least the L7 looks a lot better than its predecessor, with a glass-infused plastic case, anodised aluminium back, stylish flat-keypad design and a large, 176×220, 262k-colour screen.
The pocketable quad-band handset (1.93″ x 4.47″ x 0.45″) also comes with a VGA camera, TransFlash memory card slot and Bluetooth (but not for listening to music).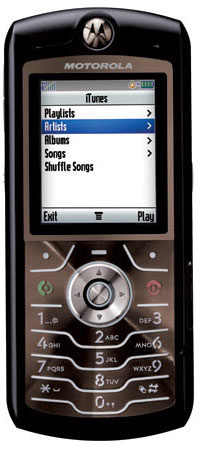 In a flurry of arty waffle, Steve Lalla, vice president and general manager for mass-market products at Motorola, explained that the, "L7 is really in what we call our 'self-expression portfolio,' where design and style is the key premise behind the product".
We suspect punters would have been far happier if they'd just designed away the ridiculous 100-song limit instead,
The Motorola SLVR is expected to be available in Q3 2005. Pricing to be announced.
SPECIFICATIONS: Sleek, super-thin design without sacrificing advanced functionality
PTT with icon presence indicators for one-touch connections
Integrated VGA camera with 4x zoom and video capture and playback
Bluetooth Class 2 for hands-free connectivity
MP3 player to store, repeat, shuffle and play favorite tunes; 22Khz polyphonic speaker
Up to 512 MB or removable TransFlash memoryWAP 2.0
Downloadable wallpaper, screensaver and MP3 ringtones
J2ME™ MIDP 2.0
Integrated hands-free speakerphone
Messaging via MMS*, IM Wireless Village* and email (POP3, SMTP)
Motorola's SCREEN3 technology solution featuring zero-click access to news, sports, entertainment, and other premium content.