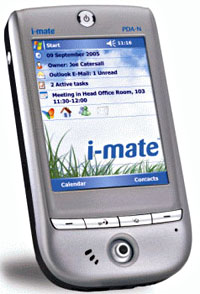 They've been bustier than Jock McHasty in a rush at i-mate, as the PDA/smartphone vendor releases another addition to their range, the i-mate PDA-N – the company's first GPS PDA.
Aimed at swivel-action business types and people who sit in cars all day (sorry, "road warriors"), the PDA-N positively bristles with connectivity, including built in GPS, Bluetooth and Wi-Fi.
The units come with Skype pre-installed, letting users make free VoIP calls over wireless connections.
Running on Windows Mobile 5 Pocket PC Edition, the PDA-N comes bundled with the full Office Mobile suite and runs on a 300MHz Samsung processor.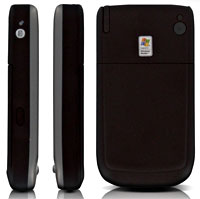 The front of the slim device is dominated by a 2.83″ 240×320 pixels transmissive TFT-LCD screen supporting 64k colours, with a row of four buttons and a joystick below.
Unusually, there's no camera onboard (least not one we could see), but there's a fair range of multimedia support onboard, with the device able to play back WAV, WMA, AMR, and MP3 music files, as well as M-JPEG/WMV video files.
Onboard memory is a bit skimpier than we would have liked – just 128MB of ROM and 32MB of RAM – but there is a SDIO/MMC expansion slot available.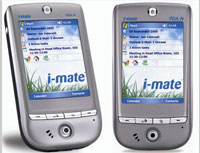 According to I-mate, the PDA-N notches up a rated battery life of 5 hours in GPS mode and 8 hours playing a looped video.
The PDA is scheduled for release in April.
Specs:
Dimensions: 109.7mm(H) x 59.4mm(W) x 17.6mm(T) (same as i-mate JAM)
Weight: 126g w/ battery
Processor: Samsung SC32442X33 300Mhz
Memory: 128MB embedded Flash ROM, 64MB embedded SDRAM
Screen: 2.83″ 240×320 pixels, 64K – colors Transmissive TFT-LCD
Interface: SDIO/MMC card slot, One Audio jack (3.5), MiniUSB connector
GPS: Embedded GPS antenna,Support NMEA 0183 version 3.0 or above, WAAS-enabled, 12 parallel channel GPS receiver:
Acquisition time
Hot start: 8 seconds, typical TTFF
Warm start: 60 seconds, typical TTFF
Cold start: 120 seconds, typical TTFF
GPS Accuracy:
Position: < 15 meters, 95% typical
Velocity: 0.05 meter/sec steady state
WAAS Accuracy:
Position: < 5 meters, 95% typical
Velocity: 0.05 meter/sec steady state

Battery: Removable rechargeable Lithium-Ion battery, 1,100mAH
GPS mode: > 5 hrs
Standby time: > 200 hrs
WMV playback: 8 hrs
WMA playback: 12 hrs
Connectivity: Infrared IrDA SIR, Bluetooth v1.2, WiFi 802.11b