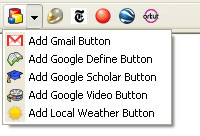 Google have released version 4 of their popular toolbar for Web browsers, with groovy new features to lure more visitors to their sites.
The new toolbar comes with an enhanced search box offering a dynamic list of suggestions based on popular Google searches, spelling corrections and the user's Toolbar search history/bookmarks.
A new Custom Buttons feature lets users create their own buttons to search chosen Web sites or display RSS feeds from selected sites.
Clicking the 'G' icon in the search box also lets users search different Google sites, the current site, or their Custom Button sites.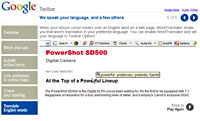 The Bookmarks functionality has also been enhanced to allow users to create and label bookmarks that can be accessed from any computer – something noticeable missing from arch-rival Internet Explorer.
Users will need a Google account for this to work, but once signed in they'll be able to access their Bookmarks menu on any computer with the new Google Toolbar installed.
Google's new 'Send To' feature lets users share Web pages via email, text message (SMS), or blog.
An entire page can be sent by selecting the Toolbar's "Send To" menu, whereas snippets can be conveniently sent by simply selecting the content you want before clicking "Send To."
Although sending text messages via the Google Toolbar is free, charges may be slapped on by mobile networks, and we're not sure if this feature will work in the UK as yet.
The new gizmos add more power to the Google toolbar which already offers useful functions like word translation, spell checking, auto-fill, pop-up blocking (IE only) and page rank display.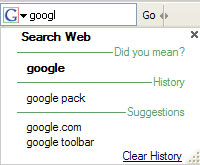 By ramping up the feature set Google is hoping to grab a larger share of Web users (and thus more advertisers) and steal a march on Yahoo and Microsoft who both offer their own toolbars.
[The toolbar] "promotes loyalty and repeat usage," said Greg Sterling, an analyst at market researcher Kelsey Group Inc. in San Francisco.
"Over time everyone expects the number of searches initiated in the toolbar to grow," he added.
The new Google toolbar is available from its website and as part of the recently announced Google Pack.