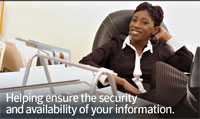 The average laptop is stuffed full of data worth more than half a millon quid.
Well, that's the headline grabbing claim made Symantec, who asked laptop users across Europe, Middle-East and Africa the value of the contents of their machines.
We're not sure if anyone's actually checking the accuracy of their estimates, but 78 per cent stated that the data on their device is of "substantial value" in terms of "intellectual property or commercially sensitive information", with users slapping an average estimate of its worth around the £550,000 mark ($974,000, €804,000).
Some respondents, perhaps getting carried away with their self worth, declared that the data on their mobile device was worth as much as £5 million.
Despite the self-proclaimed monster value of their laptop's content, it seems that only 42 per cent of companies automatically back-up employees email on laptops. The majority (45 per cent) leave the back-up duties in the hands of their employees, the crazy, reckless fools.

According to the study – taken from 1,700 quantitative interviews with general employees and IT managers – over three quarters of respondents (80 per cent) laboured under the misconception that their employer had a safe copy of all the emails on their PC.
"It's alarming that executives have mobile devices containing data of such financial value and that very little is being done to protect the information on them. The research shows that only a few organisations have measures in place to retrieve this information if their laptop is lost or stolen, which is very worrying," said Lindsey Armstrong, senior vice president EMEA at Symantec.
Of course, one should always look closely at who's asking the questions when sensational studies are published, and in this case it's web security firm, Symantec – who just happen to offer, "solutions to help individuals and enterprises assure the security, availability, and integrity of their information."
But even without Symantec's hyperbolic headline, it doesn't hurt to be reminded that you should back up the contents of your laptop and your email regularly – and archive them separately.
After all, we reckon the pictures from the Christmas office party must be worth £10 million at least. Possibly.