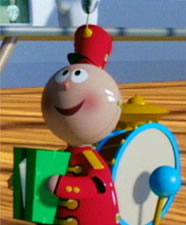 Over the last couple of weeks there's been a lot of speculation that Disney are going to be bidding to buy Pixar, the digital animation studio that's supplied the majority of Disney's successful computer-generated animation successes.
The Telegraph got very excited over the weekend and jumped the gun on the purchase, to announce that Pixar had in-fact already been bought by Disney. The poor dears, obviously embarrassed about their blunder, have replaced the story (without mention of the cockup) on the original URL to say that Jobs _would_ receive about $3.5Bn for his share of Pixar. The whole deal is rumored to be worth $7.5Bn, achieved through a stock swap.
Jobs hasn't done too badly with the $10m that he paid for the computer animations division of Lucasfilm in 1986, that he then turned into Pixar as we know and love it now. It is thought that if the deal were to complete, Jobs would become the largest single Disney shareholder.
As it is now understood, negotiation between the two parties have taken place, but the boards of both companies have yet to make their decisions.
With mutterings abounding that Jobs may become the Chair of Disney, they'd gain a huge boost with the personal PR ranking that Jobs has fashioned for himself to become the darling of all things Digital.