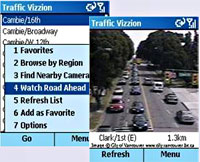 US firm Vizzion have announced the introduction of their innovative traffic-watching system "Traffic Vizzion" to eleven areas in the UK.
The system streams roadside and traffic camera videos to smartphones, letting drivers check the route ahead for congestion or other problems.
Users can browse cameras by region, and those with a Bluetooth enabled cell phone and GPS can use the "Watch Road Ahead" feature in Traffic Vizzion to monitor cameras directly ahead.
The display continuously updates to show the next camera up ahead, with no button presses or scrolling required.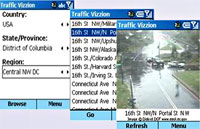 GPS users can also call up a "Find Nearby Cameras" function to list cameras close to their current location, and then select and view any camera from the list in the hope of finding the best way out of a jam.
Insisting that Vizzion is in fact pronounced 'vision', the company's cheap'n'cheerful Website lists the 11 locations across the UK where the system will initially be available:
Berkshire: Reading area
Glamorgan: Cardiff, Swansea areas
Greater London: 9 London areas
Hampshire: Southampton, Winchester areas
Lanarkshire: Glasgow area
Midlothian: Edinburgh area
Monmouthshire: Newport area
Nottinghamshire: Nottingham area
South Yorkshire: Sheffield area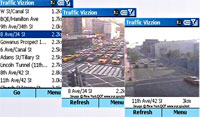 Traffic Vizzion runs on Windows Mobile 2003 for Smartphones, and relies on a working Internet connection (e.g. GPRS), with a Bluetooth GPS device required for the added features.
There's a free two week trial available from their website, with the regular subscription costing $5 (£3) per month, billable to MasterCard or Visa.
Naturally, you'd also have to add on any data transfer fees from your network provider.