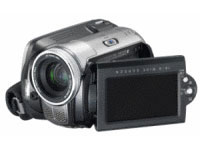 JVC has unveiled the flagship model to its extensive range of Everio hard drive camcorders, the GZ-MG77.
Updating last year's Everio GZ-MG70, the GZ-MG77 features a 10x optical zoom, fast F2.1 lens coupled with a flip-out 2.7-inch LCD viewfinder.
Going head to head with Sony's recently unveiled Handycam DCR-S100 and Sanyo's Xacti HD1, the GZ-MG77 serves up a hefty 30 GB of storage, with four different recording modes offering between 7 and 37 hours of video (approx).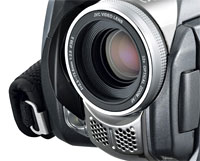 In the highest resolution mode, Ultra Fine, users can record 7 hours and 10 minutes of video at 9 Mbps.
This increases to 10 hours and 40 minutes at 6 Mbps ('Fine' mode), 14 hours and 10 minutes at 4.5 Mbps ('Normal') and a massive, holiday-spanning 37 hours and 30 minutes at 1.7 Mbps ('Economy').
The two high quality modes record at 720 x 480 pixels, with Normal and Economy being recorded at a lower 352 x 240 pixels resolution.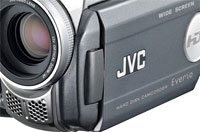 Video can be recorded in both standard and widescreen aspect formats, with an option to record stills.
The GZ-MG77 sports a 1/3.9-inch CCD sensor and auto flash, and comes with JVC's Low Light Plus and 3D Noise Reduction technologies, which claims to reduce video noise by approximately 30%.
There's also support for PictBridge direct-to-printer output, USB 2.0 connectivity, SD Card slot and built-in DVD burner control for direct connection to an optional JVC DVD burner.
The camcorder is expected to hit the streets in March 2006, with pricing to be announced later.