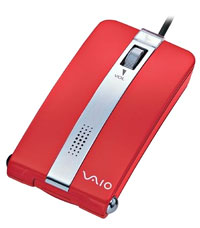 No idea if we're ever going to see it turning up in Blighty any time soon, but we love this crazy new Sony VN-CX1 USB optical mouse-phone.
The press release is only in Japanese, but we worked out that mouse-phone ('phouse'?, moune?) is able to notify you of incoming calls via flashing LED and built-in speaker.
When closed, the mouse works like any other with the dial in the middle functioning as a scroll wheel.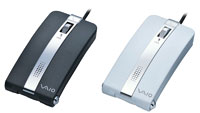 The clever stuff happens when a call comes in.
The user can then flip open the mouse to reveal a functional phone, with the mouse-wheel being used to adjust the volume. Pressing the scroll wheel mutes the call.
The built in echo cancellation feature should guarantee decent call sound quality, and finishing the call is as simple as flipping the mouse-phone shut.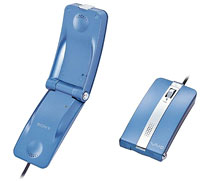 A potential problem might arise if you wanted to use the mouse when you're on a call, but we think you can just switch to speakerphone mode. Or maybe not (the translated press announcement goes on about 'knitting machines' so it's a bit vague).
Being a Sony product, the Sony VN-CX1 looks to please groovy feckers, offering the mouse in 5 trendy colours to match their shade of laptop/shirt/nail varnish.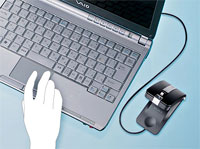 Although the VN-CX1 doesn't look like the most comfortable mouse we've ever seen, it's small and light enough (45.5 × 23.9 × 89.2 mm, 67gms) and certainly looks a fun product.
Pricing and availability is to be announced.