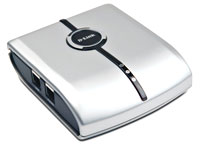 D-Link's new Skype USB phone adapter (DPH-50U) is a neat widget that lets users make and receive Skype calls on their existing corded DECT or cordless phone, without the need to have a pesky 'call centre' headset stuck on their head.
The DPH-50U lets users take both Skype and regular telephone calls from the same phone with the ability to switch from a Skype call to a landline call (and vice versa) like a conventional call waiting service.
A display on the unit flashes up whether the incoming call is from a Skype or landline connection, and it's also possible to take part in conference calls between regular telephone and Skype lines.

The concept seems a winner to us – by using your existing telephone you should enjoy better sound quality than a cheapo headset, and D-Link claim that you'll be able to use your phone's built-in features such as speed dial, redial, mute and caller ID2 for both Skype and landline calls.
Best of all, if you own a cordless phone, you'll be able to wander about your gaff while chatting away for free.
"At D-Link, we know that the digital home is all about integration and ease-of-use," said Keith Karlsen, executive vice president, D-Link. "By extending Skype to be accessible through traditional phones, we can make the benefits of Skype even easier to experience."
The DPH-50U comes with custom software, two RJ-11 ports and a USB port to connect up the regular phone line, telephone and computer, with the unit drawing power from the computer's PC port.
The phone adaptor will be available in Europe from February 2006 for around forty quid (~$70 ~e58). I think we'll be buying one.