The BBC has decided to extend the trial for the iMP Player until 28th February 2006, telling trialists that the extra time will enable it to "understand what you want from the service and how you are using it". A new upgrade of the software is due to be rolled out to the participating trialists in January.
Once this is over, the data from the trial will be processed to form a 'Public Value Test'. That will then be put to the BBC Governors, who will use this to make a decision on the viability of launching a service.
We've had mixed report from iMP trialists, which we found surprising – we thought everyone would be totally wowed by it, watching it 24 hours a day.
The not-watching-24-hours-a-day could be explained by the frustration felt by a lot of trialist – that the content available is somewhat limited choice, and the content's seven day expiry time.
Content-wonks, like us and we suspect you, are aware that these limitations are a result of the need to negotiate and pay for the rights to distribute Radio & TV content via the Internet. Members of the public, who have other lives to lead, are naturally less aware of the reasons for the restrictions.
Frankly it is easier (and cheaper) to obtain the relevant permissions for BBC content, than independently produced content and brought in content, such as films.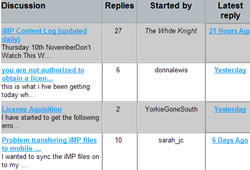 The BBC's reaction to such sniping is consistent, if not a little bland
This is a research trial
Their main focus is to assess the impact that iMP has on viewing habits
They want to understand if there's possible appetite for such a service
We think that providing a good range of high-quality content is a key to encourage users to try out the iMP and importantly, keep them using the application during the trial. Otherwise interest will fade – which is the experience we've heard from many trialists.
Questions have been also raised on the iMP users forum about the integrity of the Microsoft DRM software, designed to limit the use and copying of the downloaded programmes. Strong security will be key, if the service is to be widened to include non-BBC content.
It will be interesting to see if the service survives, and how the BBC's own commercial trading unit "BBC Worldwide" reacts, having signed a content deal with BT whose own service is due to launch in 2006.