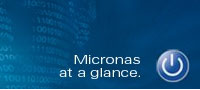 We like "world firsts" so when integrated-circuit providers Micronas announced that they were the planet's first company to incorporate a Dolby Virtual Speaker into a chipset designed specifically for televisions, we simply had to tell you all about it.
Unfortunately, their announcement was such a dull, techie-tastic affair, our enthusiasm waned somewhat, but after wading through pages of "solutions" and acronyms, we can tell you that they've invented a new chip which adds surround sound capability to televisions with only two speakers.
Designed for mid-range to high-end televisions, the chips can be slapped into flat-panel, projection or traditional CRT TVs and are capable of outputting surround sound from any audio source (including stereo and 5.1 channels).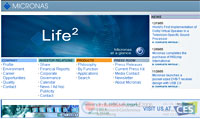 Dolby Virtual Speaker creates the illusion of five speakers by using room modelling techniques. This, apparently, sets it apart from other virtualizers.
"This is the world's first TV-specific audio solution to feature Dolby Virtual Speaker, which we believe allows the television to perform at a level of real home-cinema quality," enthused Stefan Hepp, director marketing consumer audio, Micronas.
"This technology offers consumers the illusion of a five speaker surround sound system from just two speakers. However, up until now it has only been available in selected PC software and some A/V and home theater systems," enthused Tony Spath, vice president, international marketing, Dolby Laboratories.
"Bringing Dolby Virtual Speaker direct to televisions will allow many more consumers to experience the excitement of surround sound, regardless of the source of the content," he added.
Micronas expects to see their snappily-named MSP-M/MAP-M sound processors being fitted into TVs around the second quarter of 2006.