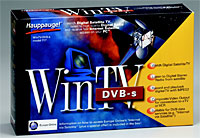 Hauppauge Digital have whipped out a new add-on card to convert a boring old PC into a multimedia-tastic satellite TV receiver.
Their new WinTV Nova-s card receives free satellite channels (the -s is for satellite), and will work with Sky's Freesat, that give free access to the unencrypted channels on Sky, which are currently all of the BBC offering and soon ITV (hopefully). Sky normally charge you £150 for the privilege.
Once they've shelled out for the £59.99 (~$103, ~€87) decoding device, punters won't need a viewing card or subscription fees to enjoy free satellite transmissions on their desktop.
The card is aimed at consumers who already have a satellite dish stuck on their roof/wall, with Hauppauge suggesting that the WinTV Nova-s would be ideal for a PC "in the kitchen, study or bedroom as an additional digital TV."
Owners can watch full screen satellite TV on their desktop, or have a smaller window open whilst trying to work on something else (yeah, right: who's going to carry on working on their VAT return when there's some top notch footie onscreen?!)
The Nova-s is compatible with Microsoft's Windows XP Media Center Edition, and also offers the option to record shows to the PC's hard disk. It will also work with all-round media handlers like ShowShifter.
At the moment, the Hauppauge's WinTV Nova-s can receive all the BBC TV channels (including One, Two, Three, Four, CBBC, Cbeebies and BBC News24 and Radios 1 to 7.)
ITV currently encrypts, or scrambles, its satellite transmissions using the service provided by Sky, but will soon be following BBC's lead and broadcasting its channels without encryption, so they can be viewed any satellite receiver.
This means that ITV1, ITV2, ITV3 and the ever-fascinating Men&Motors will become available soon, with more channels to be added in 2006 when Freesat officially launches.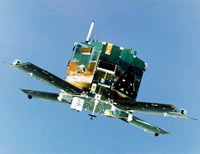 Freesat will be the satellite equivalent of Freeview," said Yehia Oweiss, Managing Director of Hauppauge Digital. "Already broadcasting BBC, the service will be available to all UK households and bring free digital TV to the 25 per cent who are outside Freeview's area. Consumers can buy our Freesat tuner now and enjoy many digital channels now, with more being added all the time."
The WinTV Nova-s looks reasonably future proofed too, offering HDTV (High Definition TV) compatibility, with HDTV broadcasts expected to be delivered by satellite in 2006/7
Freesat's EPG (Electronic Programme Guide) will be made available on the Hauppauge card, but for now the information can be downloaded through the Internet.
The Hauppauge WinTV Nova-s also provides a video input socket for slapping in a camcorder and digitising the content into MPEG format for editing and burning to DVD.