The UK Treasury announced earlier today that the Pre-Budget Report (PBR) will be on 5th December. This will allow the Chancellor to outline the Government's economic priorities and focus ahead of the Budget in the spring, and provide an update on a number of reviews.

Of interest to the media and communications industries will be the final report of the Martin Cave led Independent Audit of public sector spectrum holdings. This review was announced in the Chancellor's 2004 PBR – and generated some excitement as to the possible freeing up of spectrum held but not used by public sector organisations. In recent weeks there have been suggestions that the review won't yield up very much in the way of 'spare' allocations.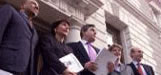 The Cox Review that aimed to investigate how best to enhance the role of creativity in raising the productivity performance of SMEs in the UK will probably also get a mention. The Review is led by Sir George Cox, Chairman of the Design Council. It was commissioned by HM Treasury and has had team support led by the DTI.
Luke Gibbs writes regularly for Ofcomwatch.