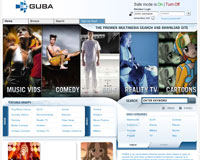 I like this … Guba
In these times, there are many options available to us when we choose how we want to consume media. Sometimes, however, it's the oldest choices that are the best: A company called Guba has developed a superb Usenet interface, with which it is possible to download music videos, MP3s as well as TV shows. The ease of use of this terrific application blew me straight out of the water, and I immediately signed up to it. Great service, just what I had been looking for and well worth my $15 (£8.50 or there abouts).
Now where did I park…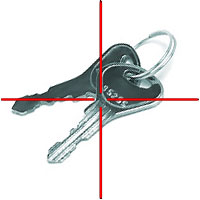 Guidepoint, a company that make navigation and location soft- and hardware, have released a new product, that allows car owners to track their four-wheeled pride and joy using their mobile phone. Although this technology is cool, you might be wondering what appeal it may have to someone of my age, who, at least in the UK, isn't legally allowed to drive yet.
Well I'll tell you why this got me a teensy bit excited: I'm a teenager. Teenagers are forgetful, and as such I am forever losing things. Imagine if I could attach small locator tags to items I lose often, and then find these tags using my mobile phone. This sort of technology would stop me losing anything, ever, and would save me countless hours of looking for my keys when they fall down the back of my desk again.
Here's another examples. Can't find my graphics folder for school? No problem, just whip out my mobile phone, and I would get a map with a little cross-hair on, telling me exactly where it's located. If it was closer than, say, 10 metres, I would instead get a small arrow with a distance reading next to it, which would guide me towards the item that I had lost.
I'm not sure how such a technology would work, but a mixture of a flavour of 802.x and bluetooth would be cool, with maybe some GPS thrown in for the maps. Now if only Father Christmas read Digital-Lifestyles, he might bring me one… Sigh…
By the way, Guidepoint has now expanded their mobile service to include remote car starting and door-unlocking. Could come in handy next time I'm planning a bank robbery ;-)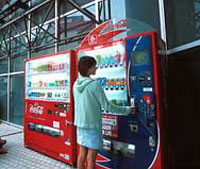 Hope it gives change!
This one just about qualifies as part of the weekly round up. Engadget covered the news that mobile phone giant Vodafone are to start selling mobile phones in vending machines. Interesting idea, but I can't really imagine it taking off to be honest: When I go phone shopping, I value the expertise of specially trained staff and the advice they have to give.
On the other hand though, a lot of staff in shops seem to lack any knowledge of mobile phones… Maybe it's just a cost-saving measure, but sometimes I think when I walk into certain phone shops that they might as well be employing monkeys half the time!
Still though, although I personally wouldn't buy a phone from a vending machine I can see a lot of kids who don't care what they get as long as it's a phone buying these.