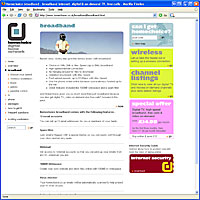 The wires are hot with rumours that BSkyB is contemplating a bout of wad waving in the direction of the video-on-demand, broadband and telephone company Homechoice, which is reportedly finding things tres tricky in the increasingly competitive TV broadband market.
Homechoice's parent company, Video Networks, managed to notch up hefty losses of £46.5m in 2004 – £1.5m worse than the year before – and faces an uncertain future of fearsome competition from the likes of Sky, the recently merged NTL/Telewest and BT.
Compared with Sky and NTL/Telewest's subscription figures (7.8 m and 5.5m respectively), Homechoice's last reported numbers of just 15,000 subscribers suggest that they could provide a tasty minnow for a major operator like Sky.
Homechoice currently provides a broadband Internet and telephone service, with on-demand programmes covering comedy, drama, music soaps, pay-per-view movies and home shopping.
Although Homechoice recently doubled the amount of homes that could receive their service to a more respectable 2.5m, there's no guarantee that subscriber numbers will reach anywhere near that amount.
We got on the blower to Homechoice and were, not surprisingly, given the official line that, "There are no current plans to sell the business."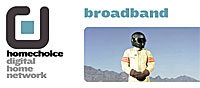 City analysts, however, suspect that Sky could snap up the company as part of its plans for video-on-demand and broadband.