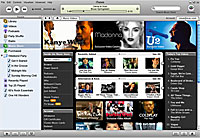 The video-capable iPod has only been out three weeks, but already Apple are claiming sales of over a million video downloads from their iTunes online service.
Topping the download charts were music videos from the likes of Michael Jackson, Fatboy Slim and Kanye West, while episodes of ABC television shows "Lost" and "Desperate Housewives" proved popular with customers.
Other music content available includes music videos from pop dinosaurs like Madonna, U2, Eurythmics, Coldplay and Kanye West (be still our beating heart), with animated shorts provided by the Oscar-winning Pixar, creator of animated hits like The Incredibles and Finding Nemo.
The video content, priced at $1.99 (~£1.12~€1.65) each, can also be played on computers running iTunes software.

Steve Jobs, Apple's head honcho, observed that the healthy sales strongly suggested there was a market for legal video downloads.
"Our next challenge is to broaden our content offerings, so that customers can enjoy watching more videos on their computers and new iPods," he said in a statement.
Not surprisingly, not everyone was keen to shell out for their video fixes, with enthusiasts quick to start sharing and distributing their own music clips and TV programs for the video iPod via peer-to-peer networks.
Robin Simpson, a research director at Gartner, observed that although some illegal copying and downloading would inevitably occur, Apple had provided video customers with a realistically priced model.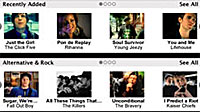 "Most people are prepared to be honest if it is not too expensive to do so," he added.
The cash till-ringing sales underlines dispels concern that people wouldn't want to watch programs on the iPod's titchy 2.5-inch colour screen and reflects the growing market acceptance of portable video.
The market was quick to react to Apple's announcement, with share prices climbing by more than 5% in Monday trading.