Linus Torvalds, the father of Linux, has, thanks to HP Sweden, been awarded the registered trade mark for Microsoft and Windows.
Linux fans worldwide – don't get too excited, just prepare to laugh your socks off. This very temporary assignment blunder was in fact carried out in an HP advert in thrice weekly mag, Computer Sweden.

Nestled down low in the small print of an advert for some HP servers which run unix/Windows and Linux, the following text can be found
"Microsoft and Windows is registred trademarks in USA and is owned by Linus Torvalds."
Ouch.
HP were initially quick to pass the buck, placing the blame on the 'London advertising agency' that they say should have read the copy more closely. Then on reflection, they decided that they too should have read it too.
Hilariously the advert is for an HP range of servers call Integrity. Oh dear, HP will take a while to live this one down.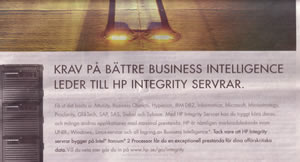 Quite who originally spotted this blunder in the small print, isn't known, but we suspect that it's someone with a very keen eye for detail – verging on the fanatical.
Many thanks to the top Swedish spotter, and Digital-Lifestyles friend Anders M Olausson who spotted this being covered tragically in the magazine where the original error was made.