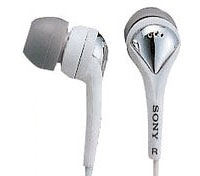 It's almost always worthwhile upgrading the cheapskate headphones that invariably come bundled with MP3 players and phones – especially if you're currently strutting around with a pair of 'Mug Me Now!' Apple iPod 'phones.
Sony has acquired a fine reputation for their consumer headphones and we looked forward to testing the Fontopia MDR-EX71SL in-ear headphones.
Sony have cottoned on to the fact that a lot of people won't want half a mile of excess cord flapping around, so have fitted the headphones with a short lead, ideal for plugging into lanyard remote controls.
If you need a longer lead, you can simply attach the extension cord to extend the cable to 1m.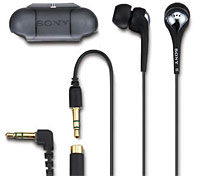 The closed-type Fontopia design is powered by super-small 9 mm drivers kitted out in Spinal Tap black with go-faster silver accents (they're also available in Mac-like white, but that's just asking for trouble).
Looking and feeling disturbingly medical, the headphones come with three sets of attachable soft silicon earbuds in small, medium and large sizes.
These floppy bits of thin, rubber-like material fit on the headphones to provide a tight seal around your ears.
We have to say that fitting them felt a little strange, but once our ears were suitably isolated, we tried the Sony Fontopias through a variety of sources; an MP3 player, PDA smartphone and high end hi-fi system.
Playing back a selection of tunes on the MP3 player, we immediately noticed a huge improvement in the sound quality, with a deep, smooth bass making itself felt with vocals being rendered more crisply.
The same improvement was heard on the smartphone, but the hi-fi system merely served to highlight the limitations of the 'phones – not unreasonable considering the $32 (~£18 ~€26) price tag.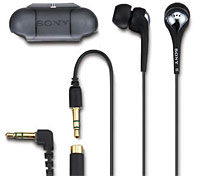 Suitably impressed with our tests, we decided to take the headphones with us on a business trip and here's where the problems began.
With the silicon earbuds forming a super tight seal around your lug holes, everything starts to sound a bit weird and distant when you're walking the streets.
Your own footsteps resonate through your head like you're King Kong going for a walk in diver's boots and if you hum along to a tune it sounds like there's several hives' worth of bees joining in.
It was really, really unnerving and, frankly, rather unpleasant and we wished we'd stuck with our original 'phones.
However, once on a train, the Fontopias came into their own, doing a wonderful job of delivering high quality sounds while almost silencing the screaming kid and Cock-er-nee Geeza shouting into his mobile opposite.
So we've got mixed feelings about these headphones: if you don't mind sounding like a leaden leviathan going for a stroll, then the Fontopias represent great value, with their sonic quality improving vastly on headphones bundled with popular MP3 players.
We loved relaxing in splendid sonic isolation on the train, but as soon as hit the city streets we couldn't bear the disorientating feelings we got from the Fontopias.
As a result, we strongly recommend trying these 'phones out before buying.
Sound quality 4/5



Build Quality 4/5



Overall 4/5 (on the train) 1/5 on the streets


Specs:
Frequency Response: 6 – 23,000 Hz
Headphone Output: Power handling capacity: 100mW
Impedance: 16 ohms at 1 kHz
Cord: OFC; Neck Chain, 4 feet (1.2m)
Magnet: 400-kj/m3 a Ultra-High-Power Neodymium Magnet
Diaphragm: PET, long-throw
Driver Unit: 9mm diameter
Other: Lateral, In-the-ear, Closed, Dynamic
Plug: Gold-plated, L-Shaped, Stereo Mini Plug
Sensitivity: 100 dB/mW
Weight: 0.1 oz. (4g), without cord