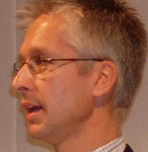 The futuristic vision of a connected home with content moving seamlessly from our TV to our PC and on to our mobile device is still a long way off, according to key speakers at The Connected Home conference in London today.
While David Sales (pictured right) from BT Entertainment waxed lyrical about broadband; Microsoft's Elena Branet praised IPTV; and Mary Francia of Philips presented the Streamium product range; they conviently avoided the the area of interoperability.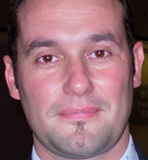 It took Dimitri Van Kets (pictured left), from Belgian telco, Belgacom, to voice what many were thinking by announcing that the networked home was "little more than a mass of standards" and "too confusing" for the average consumer. Unless the service providers get together and educate customers, he said, true home connectivity was never going to happen.
Sky Interactive's Paul Dale, speaking from the audience, said he'd been annoyed when a perfectly legal DVD of Thomas The Tank Engine wouldn't play on his Windows Media Player. Luckily he'd been able to hack into it – but clearly this wasn't the preferred way forward!

Paul Szucs of Sony said that service providers should "try not to lose the plot with content protection", adding that "consumers simply want their devices to work together and share content."
The mood was best summed up by Peter King of Strategy Analytics: "We're not going to move any further without a massive consumer awareness programme funded by all players in the chain."
Even Microsoft's Branet admitted there was a need to "focus on educating consumers".
But until the key players stop operating in silos, this isn't going to happen.