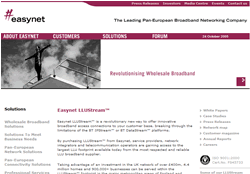 As we reported last week, Easynet has been bought by Sky – as long as they get shareholder approval, but since Sky have offered a premium on Easynet's shares, this should be a done deal.
This is the first broadcaster (in the UK) to take control of the telecom's infrastructure required to deliver a triple-play of voice, Internet and video, though it's likely Sky will use the broadband piece to complement its satellite delivery channel. This does give them the much need backchannel that has been elusive so far (requiring dial-up to access SkyActive and other services).
This could be a major blow for THUS who provide telecoms services for Sky as well as hosting various services (THUS developed parts of the WapTV service with Sky). Sky accounts for around £30m of THUS's revenue (about 10% of their total) which could potentially go to Easynet which would make a huge dent in THUS's revenue figures, though a lot of it is very low margin.However it might put THUS in a poor financial situation when viewed by the city.

Even though Sky are buying into LLU, Easynet only cover around 250 exchanges and currently all the voice goes to BT (Easynet use the shared metallic path LLU option), while Sky are likely to want to take the phone service as well (they already have a SkyTalk package using CPS provided by THUS). Sky will need to invest to make this a reality as well as increasing Easynet's coverage. They have said they want to go into around 1000 exchanges, so that's a build out of around 750 – which won't be cheap (probably another £100m'ish at least).
For Sky that may be enough as it will cover all major city centres and that's a big plus for Sky who estimate they can't reach 20% of their potential audience due to issues with coverage (i.e. no satellite line of site due to buildings in the way, or no way to mount a dish, multi-tennant buildings etc). LLU will give them the means to reaching these people.
It still begs the issue of what's going to happen when BT roll-out their 21CN and attack all 5,600 local exchanges and also offer a triple-play, but at least Sky will have a lead on them and already have the content ready to roll. BT are likely to be the winners longer term, but at least Sky may have a fighting chance in urban areas.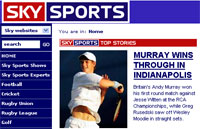 If all the LLU players aggregated infrastructure and competed on services, they could build a 21CN of their own now. LLU competition is going to be fiercely competitive with Wanadoo, AOL, Sky and even Be offering a triple-play – all competing for the same customers. – as well as BT (who will have nationwide coverage) and not ignoring NTL/Telewest who are also going into LLU.
The LLU operators have got maybe a 2 year window before BT get their act together, if they don't do something co-operative now, in 2 years a lot of them will just be passing memories.