The first part of this preview was published last week.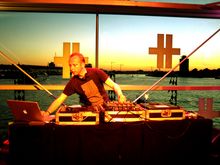 The festival has been developed by Bloc (Creative Technology Wales) and Chapter Arts Centre, Cardiff. They have managed to accommodate a large number of complex yet accessible projects. This collaboration is all the more impressive in its scale when you realise that both organisations have their own projects running concurrently (Bloc are developing Northern and Southern pilot projects in Wales with accompanying seminars; Chapter are hosting the first UK showing o the artists Olaf Breuning).
The festival will be based at Chapter but will spill out into the streets of Cardiff and various venues and unique spaces. Contemporary artists are increasingly engaged with, or inspired by, digital technology and such public spaces.
The public and communication technologies are attractive to artists because of their user friendliness and their massive global reach.
Artists tend to situate such work somewhere between public art and street culture. Digital technology is often claimed to go beyond physical limitations such as cyberspace, but it is always embedded in real spaces and places such as the home, the workplace and the street whether this is an individual user, or as part of a larger ever extending network.
These spaces in Cardiff include the Millennium Stadium, where Tim Davies' Drumming will be shown on the giant digital billboards above the pitch. This shows the frenetic beating of a snare drum as a call to arms. The drumming echoes out throughout the stadium and beyond, echoing the roar of 70,000 Welsh fans.
If you see a number of futuristic-looking people being pursued down Cardiff's Queen Street, don't worry, that will be Blast Theory.
Renowned internationally as one of the most adventurous artists' groups using interactive media, Blast Theory come to Cardiff to present the award-winning chase game Can You See Me Now?
Online players are dropped into a virtual Cardiff while Blast Theory runners, tracked by satellites in the real city, pursue you.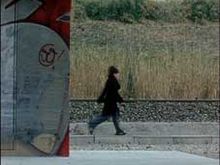 To join in you can access a number of computer terminals at the National Museum and Gallery or at one of the festival hubs at Chapter or g39 (cor). If you are unable to visit you can play from your own computer.
A number of residencies have already taken place across Wales, such as Jen Southern and Jen Hamilton who have been working at Creative Mwldan in Cardigan.
They have been setting tasks for locals and tourists while tracking their movements through GPS systems.
The evidence they collect will then be relocated to Cardiff, where they will be taking visitors on a boat trip in Cardiff Bay.
Grennan and Sperandio will be based in Cardiff, where they are keen to meet anyone interested in any aspect of gaming, from bridge clubs to computer game enthusiasts. They will be creating an online and actual card game based on interactions with historians, language experts, game enthusiasts as well as people from all walks of life in Cardiff.
Artists from Wales were encouraged to develop new work. Stefhan Caddick will be placing a portable digital road sign near Cardiff's Old Library.
Usually used to display traffic information, viewers are asked to text their own messages which will be then displayed on screen.
Andy Fung's work will be displayed on an advertising billboard on Leckwith Road near Cardiff's Football ground.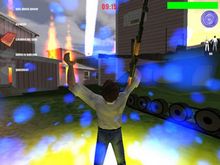 The artist group Second Site will be displaying new video works in the windows of a empty bank on Bute Street, while Chris Evans will project his interactive game onto St John's Church in the centre of Cardiff.
Canton Labour Club becomes the ideal venue to host a series of discussions based around ideas of community and broadcasting.
The two-day conference will explore the themes of the festival, including the use of locative media, such as GPS systems and mobile phones. There will also be a look at the use and influence of video gaming.
With so many creative technologies on offer, it seems that we do indeed live in interesting times.
Karen Price is Arts Correspondent for the Western Mail.
The first part of this preview was published last week.