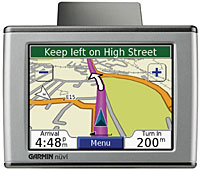 Quickly earning a We Want One Now Please accolade, Garmin have announced the nüvi, a feature packed GPS travel assistant the size of a deck of playing cards.
Packed into its diminutive dimensions (3.87″ W x 2.91″ H x 0.87″ D, 5.1 ounces) is a portable GPS navigator, Audio Book Player, traveller's reference, and MP3 player.
Songs can be loaded onto the SD card using drag-and-drop.
Sporting a 320 x 240 pixels (3.5″ diagonal) 64k TFT touch screen display, the nüvi's built in GPS provides automatic routing, turn-by-turn voice directions, and finger-touchscreen control via a built in speakerphone.
For the easily bored traveller, the nüvi packs in an MP3 player, audio book player from Audible.com, JPEG picture viewer, world travel clock with time zones, currency converter, measurement converter, and calculator.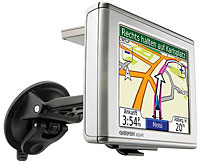 Garmin are claiming that the built-in lithium ion battery offers between 4-8 hours of battery life.
There's also optional language and content support from software packages such as the Language Guide and Travel Guide.
The Language Guide
The Language Guide uses data provided by Oxford University Press and provides a multilingual word bank, phrase bank, and five bilingual dictionaries.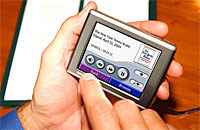 With the guide, travellers can look up and translate more than 17,000 words or 20,000 phrases per language with a text-to-speech interface letting users talka da lingo.
Travel Guide
The optional Garmin Travel Guide has a ton of travel information on tap including reviews and recommendations for restaurants and tourist attractions.
The information is integrated with nüvi's GPS functionality, so that hungry drivers can be guided to the nearest eatery, with the nüvi's text-to-speech functionality keeping eyes on the road.
The nüvi comes in two flavours:
nüvi 300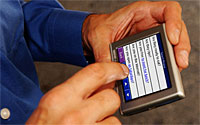 Sold exclusively in Europe, the nüvi 300 comes with approximately 200 MBs of internal memory for storage of supplemental maps, MP3s, and audio books (available from Audible.com). Pricing to be announced.
nüvi 350
This top of the range configuration contains full European mapping and is compatible with the GTM 10 FM TMC traffic receiver, making it easy to calculate new routes to avoid snarl ups.
The nüvi 350 comes with an A/C charger and provides around 700 MBs of internal memory for storage of supplemental maps, MP3s, and audio books.
Garmin have only announced domestic US pricing so far, with the North American versions (pre-loaded City Navigator NT maps of the US, Canada, and Puerto Rico) retailing for the rater precise amount of $969.22 (£555, €810).
Availability is expected sometime in November 2005.