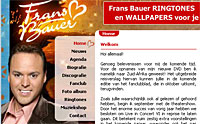 Call us cynical if you like, but when we get a press announcement trumpeting some kind of 'world first' or another from someone we've never heard of, our eyebrows tend to arc skywards.
So when we heard that "popular singer" Frans Bauer was slapping up a mobile version of the (ahem) "most breathtaking scenes" from his DVD and making Norris McWhirter troubling noises, a mass outbreak of chin-stroking followed.
Despite being boldly hailed as the "first time that scenes from an as of yet unreleased music DVD will make their debut on a mobile phone," there were unimpressed noises emanating around Chez Digital-Lifestyles as we suspected the over-eager hand of a hyperbolic publicist at play here.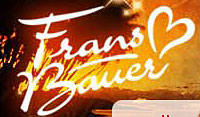 It is significant that content is breaking on mobiles before it's in the shops and we've no doubt that mobiles will continue to play a greater part in the distribution of music and video, but we can't really get excited about someone (even if they have got dazzling teeth) releasing a few snippets of a DVD for mobiles and then expecting the Guinness Book of Records to be calling them up.
After all, all they've really done is just make the equivalent of a film trailer available a few days before the full release. Big bloomin' deal.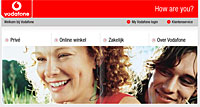 In fact, we're so unimpressed that we can't even be bothered to give you the name of the video, but you can find it somewhere on Vodafone's Dutch Live TV website, or just click around chirpy Frans' website.
Whose the winner from this? Well, top marks to the music company who we suspect will be getting a slice of cash from Vodafone NL, as well as getting them to promote the artiste with all of the PR power they can muster, giving tons of free promotion to the new release of a DVD that many of us wouldn't have heard about otherwise.
The fans of Frans 'The Teeth' Bauer will probably also be falling off their Zimmer frames in excitement. There's no doubt that Frans will be flashing a smile too, but he probably can't help that.
But this transparent marketing exercise does reflect the growing importance of the mobile music market – and with sales of mobile music surpassing CD single sales this year in terms of volume, we can no doubt expect to be troubled with more attention-seeking press releases.