Leo Kuvayev, the leader of the largest Spam gang, and six of his business partners have been handed a $37m (~E30m, ~£21m) fine by the courts in Massachusetts.
They were prosecuted under the CAN-SPAM Act (Controlling the Assault of Non-Solicited Pornography and Marketing Act) and the Massachusetts Consumer Protection Act.
Running the two businesses, 2K Services Ltd. and Ecash Pay Ltd, from both a Boston Post Office and Russia, he was helped to court by information supplied by Microsoft. The spammers had used many different Hotmail accounts to blast the unsuspecting world with their spam, where they sold counterfeit Vioxx, Zoloft, Paxil, Lipitor, and Viagra; copy-software; and Casino playing.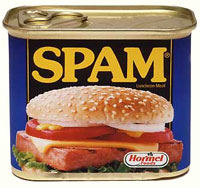 This was no small operation. Microsoft collected more than 45,000 spam messages believed to be from the Internet Spam Gang in just 22 days between 12 June and 4 July 2004. Not bad, with an average of 2,000 emails per day.
These boys had permanently itchy feet online as well as in real life. They registered domain names in Monaco, Australia and France, and used computer servers located in China, Korea, Brazil and Taiwan.
Massachusetts Attorney General Thomas Riley took civil action against the collection of companies and obtained an emergency court order, bringing down a number of websites including BadCow.com.
Leo's been known about for a while. A glance to the ever-helpful Wikipedia, shows information that was collected about Leo Kuvayev, or Leonid Aleksandorovich Kuvayev to give him his full name, as far back at June 2004. Wikipedia reports that all of this information was then passed to the Head of Macromedia anti-piracy unit, and eventually made it to the FBI.
From this, we can see that Mr Kuvayev didn't limit his business activities to just being the worlds largest spammer, but ran software copying organisations and online casino's and most frighteningly credit card processing.

He appears very enterprising, does't he? He's also listed as the 2nd worst spammer on the Spamhaus top ten – (thanks to them for the photo).. Not bad for a 32 year old (if you like that sort of thing) .
On the amusing side, In what we assume must have been his less wealthy days, Leo looks like he tried to sell a few of his possessions on usenet. Interestingly the ad says that they 'Must sell by 5/31/96' – on the move again?
We suspect that the chances of him being caught is pretty slim, and those of him clearing his $37m fine, slimmer still.
We also wonder how long it will be before Viaden.com removes the testimonial from Kuyayev!
Case information from Massachusetts Attorney General