We've now had change to absorb this and ponder its impact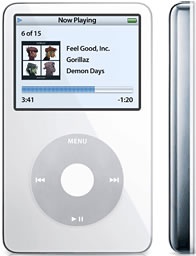 After weeks of frantic speculation that a video-capable iPod was on the way, Apple have sure enough announced the very thing at their event in the California Theatre in San Jose and BBC Television Centre in the UK.
Steve Kennedy has been at the UK event for us. There was no live updating allowed during the event, so updates have been patchy and details were slow to emerge.
Here's the highlights …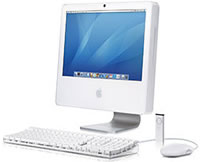 New iMac G5. A bit faster, but the big thing is FrontRow. It's Apple's Media Centre-killer. The new Apple Remote, a svelte 6 button remote control that looks like a shuffle, controls any media you have on your iMac. Makes the MS Media Centre 26+ button remote look very wrong – too tech. Simplicity reigns. iSight camera is built in. Parallel output to bigger screen, projector. Price is very tempting starting at $1,299 (17″ £899 inc vat, €1379) (20″ £1199, €1799).

Video-capable iPod. Next gen iPod with 30% thinner than current generation player but with a bigger 2.5″ colour screen. 320×240 QVGA (quarter VGA), but not wide screen as rumoured. Video playback supports MPEG-4 and h.264 playback. 30Gb & 60Gb. S-vdeo out through the doc, but video will appear pixelated on full size TV screen. The 30GB should go for $299 (~£219~€349), and the 60GB for $399 (~£300~€469). They're on the Apple online Store and will be shipping next week.?
?Not quite the world shattering device that was expected, but from those who have seen it "sexy."
iTunes 6 – Upgraded again after the 5.0 release of a few week ago. The big change. As expected from our first video of itms, downloadable video. A deal has (~£227~€331) been done with ABC/Disney to let five shows (Desperate Housewives, Lost and three disney shows currently) to be paid for and downloaded the day after they're on TV – only in the US currently. Is there any co-incidence that the UK launch happened in the BBC TV centre?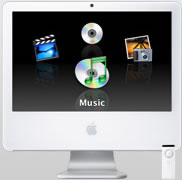 "It's never been done before, where you could view hit TV shows and buy them online the day after they're shown," Jobs said. While this may be true that people have not been able to _Buy_ it, but let's not forget that the BBC has the iMP trial running, where you can get shows straight after they're shown – but for nothing.
We imagine there'll be lots of lost sleep in Redmond tonight.
We'll have a more considered piece on the impact of the announcements once it's sunk in.