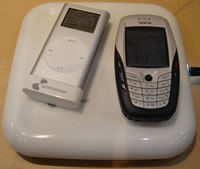 There is a dilemma with the pursuit of mobile living that we're all familiar with. The constant need for recharging.
Battery technology hasn't kept pace with the frantic dash of processor development and generally more processing power needs more electricity. This leads to the need to packing a considerable number of different power chargers.
Standards in this area are hard to find.
By the sheer number of mobile phones that they have sold, Nokia have, by default, become a form of (power adaptor) standard. While other mobile phone companies took the introduction of each model as an opportunity for extra profit, by altering the power connector of each device, Nokia standardised.
This sensible approch has lead to the point of knowing that most houses that you visit will have at least one Nokia charger knocking around somewhere. Slowly, and I suspect, rather begrudgingly, other companies are starting to take advantage of this too.
A Thomson bluetooth headset, the Liberty, that I recently acquired came with a small interconnect between mains charger and the headset that was designed to be used with a Nokia charger.
As I covered in The Guardian today, what's needed is a universal standard and UK company Splashpower hopes they're the company that could help empty your suitcase of power leads, taking you to recharging nirvana.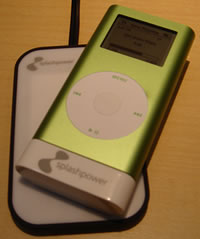 Theirs is a contact-less charger, so there's no worry about different connectors. It uses electromagnetic induction to pass electricity from a charging plate to any suitably equipped device that's placed on it. Think cordless kettle or electric toothbrush.
How do you use it? It couldn't be easier, just place your device with a SplashModule on a splash pad and it starts charging.
A very neat idea – if not a little magical.
This is all fine and dandy, but I see it's a pretty hard business to succeed in. Not only do they have to persuade the makers of the devices that they need Splashpower charging – taking away possible profits from them in additional charge sales as people need one for the office and another for home – but the Splashpower unit has to be incorporated into the mobile device too.
The barriers – additional costs. A concern where price pressure on mobile companies is constant in countries like the UK where the consumer expect their next handset to be free or at least very cheap
– While Spashpower have managed to incorporate all of the required gubbins into a Nokia 6630 without it protruding beyond the original case. The space required is a challenge in the era of ever decreasing size and ever increasing function.
– The design of any Splashpowered handset need to be designed with this in mind from the outset to ensure no interference with the phones reception.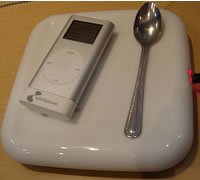 Beyond that they have to persuade the device manufacturers to include their SplashModule in devices, but without the charging SplashPads out there, why would they? The same is true to the venues installing SplashPads, without a pool of equipped mobile devices.
I suspect that in the four years they've been in existence, they've realised this. While perfecting the product and applying for patents, they've also been putting deals together.
Putting this to Lily Cheng, the co-founding CEO, revealed that they're in discussion with two posh hotel chains mentioned in the article, Penninsular and Radisson Mayfair, who are planning to build the SplashPad's into the bedside units, so the execs can sleep soundly knowing their mobiles will be fully charged in the morning.
The surprising one for me was the up-market office furniture makers, who are seeing it not only as a way of recharging mobile technology, but for placing other wire-free electrical items on the desks, such as lamps and fans. Cue minimalist interior designers and architects fainting at the prospect of wire-free desks.
With all of this up-market talk, I wonder if the unnamed mobile phone company they're also in talks with is Vertu, Nokia's uber-expensive mobile brand.
So what was new at Ceatec for them?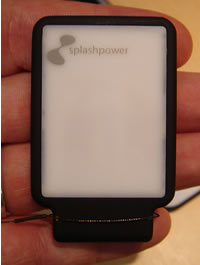 They've expanded their range of pads to include one that charges two devices and a single unit too, which is a smaller, travel-friendly version. In the current trend for personalisation, decorated/pattered covers can be fitted to the front.
Rather than wait around for the makers of portable devices to catch up with their thinking, they designed and made adaptors for a number of devices – iPod Mini and DoCoMo FOMA phones – that consumers can buy and attach themselves. Other adaptors are on their way for other devices including the ever-expanding range of iPods.
I really hope Splashpower succeed. They got a strong idea and when you see it, you'll wonder why we're not all using this already – another step in the freedom from wires.
Photos shot on a DSC-T7