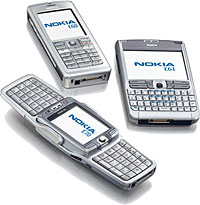 Nokia has announced the Eseries phones, a new range of devices designed for swivel action execs and be-suited business bods.
With the range initially comprising of three new phones aimed at money-rich, time-poor office types, all the Eseries will run on the Symbian Series 60 platform 3rd Edition, sport QVGA or better displays and incorporate push email including BlackBerry and attachment editing.
The Nokia E60, Nokia E61 and Nokia E70 claim superior voice functionality and quality, with the devices supporting advanced voice services like Internet (Voice over IP) phone calls, Push to talk and SIP-based services, backed by a range of local connectivity options including WLAN, Bluetooth and Infrared and USB.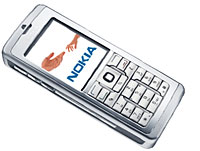 The devices are the first in the industry to support remote device management based on OMA DM*, letting IT managers remotely control and protect corporate data on the device and fiddle about with phone configurations. Or just have a good nose about.
"When we carefully considered the requirements of our customers when developing these devices, two clear new trends emerged: the need for IT departments' to have a secure and manageable platform, and the need for devices to support a variety of employee preferences and different working styles," said Niklas Savander, senior vice president of Nokia's business device unit.
Nokia E60 (above)
Starting off the new range is the E60, an attractive, traditionally styled 3G phone with VoIP, speakerphone, a 24-bit 352 x 416-pixel display, and a low-voltage RS-MMC slot.
Offering useful business features like integrated speakerphone, conference calling and voice-aided applications like Push to talk, and IP-based telephony, the phone supports GSM/EDGE 900/1800/1900 and WCDMA 2100.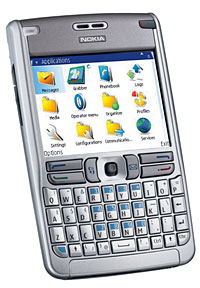 Nokia E61 (right)
Next up is the E61, which looks to be shoving its slimline oar (0.55 inches) into Treo/Motorola Q/Blackberry territory, with the device supporting multiple mobile email clients like BlackBerry Connect, GoodLink, Nokia Business Center, Seven Mobile Mail, Seven Always-On Mail, and Visto Mobile.
Looking like an E60 after an encounter with an elephant, the wide and flat E61 sports a full QWERTY keyboard, landscape 24-bit QVGA display (352 x 416-pixel display), miniSD slot and quad-band GSM/EDGE and WCDMA 2100 connectivity.
Full attachment handling (documents, spreadsheets, presentations, PDF viewer and ZIP manager) is built in with an editing function for documents, spreadsheets and presentations included.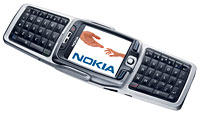 Nokia E70 (left)
Finally, the E70 features the same, slightly strange, flip-open QWERTY keyboard phone seen on Nokia's 6800 series.
The phone comes with a full party box of gizmos and gadgets, including a 352×416-pixel display, 2 megapixel camera with CIF-resolution video capture, USB 2.0, miniSD slot, and Wi-Fi 802.11g/e/i.
The phone will be available in a GSM/EDGE 850/1800/1900 version for the Americas, plus a 3G version for Europe and Asia.
All three Eseries phones are expected to be available in the first quarter of 2006 worldwide.