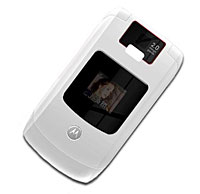 Motorola have offered more details about their forthcoming 3G RAZR V3x slim flip phone.
Surprisingly not as slender as the hugely popular original RAZR, the new V3x packs in dual cameras, a hefty two megapixel camera with an 8x zoom and macro mode for photography, and a VGA camera for 2-way video calling.
The sleek housing has fattened up a bit to accommodate the 3G gubbins, and comes with two vivid colour displays.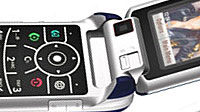 The onboard Bluetooth chip supports wireless stereo sound through Motorola's Bluetooth Stereo headphones and other compatible hands free wotsits, with up to 512 MB of removable optional TransFlash memory.
There's support for playback of AAC+, MPEG4, WMV, WMA, MP3 and Real Video/Audio media files, with progressive downloading to view media files on demand.
The handset will include a new service called SCREEN3 giving users "zero-click access" to news, sports, entertainment, and other premium content on the go, providing a handy source of revenue for mobile operators.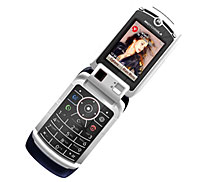 Motorola have also included an advanced speaker-independent voice recognition which lets users state a number/name and be connected without all that pre-recording palaver.
The Motorola RAZR V3x is expected to be available in Q4 2005 with pricing to be announced around that time.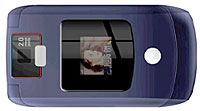 Meanwhile, as Motorola's phones scoff the pies, rival NEC has launched the World's Thinnest Folding Camera Phone, a feather-untoubling slip of a thing.