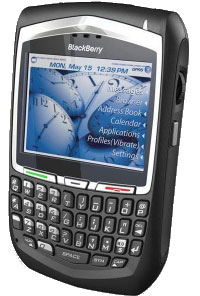 We're still waiting for the official announcement, but Blackberry enthusiast site Pimstack has managed to unearth some photos and specs of the forthcoming Blackberry 8700.
Expected to be released around December/January, the matt-black and silver smartphone looks sure to appeal to blokes who like their technology beefy, manly and without a girly curve in sight.
Thinner and narrower than the 7200 series, the Darth Vader-esque case sports "high-end ornamental accents" (huh?) with a large 320 x 240 (1/4 VGA) colour LCD screen and a light sensor to automatically adjust brightness.
Below the screen is a full QWERTY keypad with dedicated Send & End Keys, a mute key and two User-Definable Keys.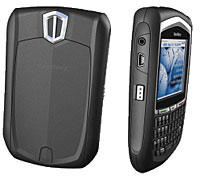 Connectivity is taken care of via quadband GSM/GPRS/EDGE connectivity with onboard support for Bluetooth 2.0. There's also a hands-free speaker phone built in.
Powering up the Blackberry is a 312 MHz processor, with 16MB RAM and 64MB ROM built in.
Research in Motion (RIM) are claiming that their updated OS will offer an improved user interface and better performance across the board, so users can look forward to nippier navigation, faster web browsing and speedier programs.
The new phone (codenamed Electron) will also provide contact-specific ring tones, better support for viewing attachments and Enhanced Power Point slide viewing.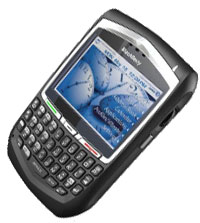 RIM Announce Intel Partnership
Elsewhere, RIM have announced that they will be using Intel's XScale PXA9xx mobile phone processors in upcoming BlackBerry devices.
The Intel processor, with the strange codename of "Hermon", will run on Enhanced Data Rates for Global Evolution networks (EDGE).
This technology lets users connect to the Internet and send and receive data at broadband comparable speeds.
The chip is also expected to support video conferencing, which suggests that there's 3G support going on.
RIM's co-chief executive, Mike Lazaridis, commented that the next-generation BlackBerries would boast increased browser speeds and help the company push into new markets, while predicting that the new platform would also appeal to third-party application developers.