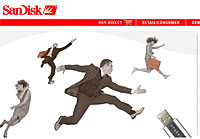 SanDisk have unveiled their "fingernail-sized" new TrustedFlash cards, a technology that embeds Digital Rights Management (DRM) and decryption technology into memory cards, and also includes a subscription manager enabling the cards to be used for digital subscription music services.
Speaking at the CTIA Wireless show, SanDisk Chief Executive Eli Harar said, "We think this will be a disruptive technology, but will enable a whole new world of opportunities in the mobile market."
"Today content is locked to play back on one device. Now we have the freedom to enjoy content on whatever device consumers want to use," he added.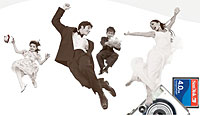 Harar stated that the TrustedFlash card would act like current SD cards, with the technology able to be extend into on-demand content such as feature films and online games.
Despite their speck-like proportions – a mere 18 mm long and 2g in weight – the cards can offer enough storage space to hold thousands of DRM-protected MP3, films, photographs or games.
The "Gruvi" (what?!) cards use the micro SD card interface so they can be slotted into mobile phones, GPS devices, MP3 players and computers.
Users of the card could, for example, buy a video online, view it on their home PC, save it to the TrustedFlash card and then slap the card into their PDA/smartphone for watching on the move later.

SanDisk are also hoping that content providers like music companies, film suppliers and mapping data companies will ship preloaded Gruvi cards with the content protected against copying by TrustedFlash.
The first batch of cards using TrustedFlash will be preloaded with the Rolling Stones' new CD "A Bigger Bang," due for a November release with the 265MB card costing $39.95 (£22, €33) – What?!? How Much?!?
The Stones' release will also hold four additional albums that can be unlocked for an extra fee.
SanDisk hopes that the new cards – expected in the UK by Christmas – will eventually reduce the costs of buying music.
Pedro Vargas, SanDisk's director of mobile entertainment, said that the price was justified by the extra capacity and flexibility on offer, and that he expected prices to drop over time.
In the future, the cards could be used to play content from subscription music services such as Yahoo Music and Napster.
Subscribers could download the DRM-protected songs onto the chip and play them back on any suitably equipped MP3 player, with the DRM continually checking the subscription status (so if the subscriber hasn't kept up with their payments – whoosh! – no more music!)
SanDisk are producing the new cards in capacities ranging from 256MB to 4GB and expect them to debut in October followed by a complete rollout to be completed by March 2006.