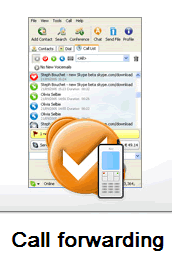 Skype has today announced a new version of their Windows release of Skype.For the first time, several more functions are added to make Skype both a more serious communication tool, and at the same time, more frivolous.First the serious side. v1.4, which has been in beta since August, includes call forwarding for when you aren't sitting by your computer, or if you're a little more advanced, you've dropped out of WiFi range on your handheld version. If Skype finds you unreachable, you can set it to forward your calls to up to three landlines, or mobiles. The forwarding for the person initiating the call is free, with the Skype user paying for the privilege from their SkypeOut minutes.We see the Real Excitement is around the ability to forward calls from one Skype ID to another, giving the ability to have more than one Skype ID. Until now this had to be handled by all sorts of complexity of running two versions, separate from each other. Calls forwarded to another Skype ID are free.What the significance of the whole of Call Forwarding? Your SkypeIn number, or Skype ID becomes your first point of contact, something we've seen before with Unified Messaging (UM). UM didn't set the world alight when it came to techy attention 2-3 years ago, but Skype has timed this perfectly, realising that people are now ready.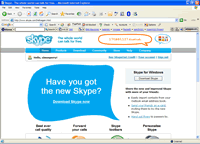 Personalisation
Personalise Skype allows, in Skype's words, "callers to easily express themselves with original pictures, sounds and ringtones for as little as 1 euro ($1.20)." Quite why people need to fall back on pictures, sounds and ringtones to express themselves on a service that is all about communication is a little beyond us. Perhaps we're not the target market.We suspect the allure of the global ringtone market being forecasted to grow to $5.2 billion in 2006, and ringtones now accounting for over 10% of the $32.3 billion worldwide music market (Arc Group) gives us a strong clue as to the reason it's being offered.We've had a good look over the new version of the software and can't find out where Personalise Skype is configured. Perhaps they're bringing it on later.Quite how this will work will the add-on handsets that are currently on the market is unclear, but we suspect they will continue to have a single tone to alert of all calls.

Skype users love it
Skype has taken this release to tell the world how much Skype users love it, and how frequently they call on it. The figures, from an unnamed, independent study, are as follows
Skype is used once or several times a day by 76% of its callers, far surpassing the usage levels of traditional IM-based voice calling services. Callers also recognized Skype's leadership in sound quality – 72% of Skype users consider call quality to be good to excellent. Skype callers are more international, with 85% communicating with people living abroad. Skype's broad base of early adopters are eager to embrace new features, with 79% interested or very interested in receiving calls from landlines, and 73% interested or very interested in adopting call forwarding, key innovations unique to Skype.
Other goodies
We've noticed a couple of other additions, not highlighted by Skype themselves. A marketing line appearing on the Skype player just above the box to type in phone numbers has appeared. And a feature previously achieved via a plug-in has hit the main product – Auto pause for music playing on WinAmp appears – we don't recall seeing previously.As the world-and-his-wife knows, Skype sold to eBay recently for a _huge_ amount of money.Strangely, when we first clicked on 'Check for Updates' on one of our copies of PC Skype, we received the message that we had the latest, despite it running v1.3x. Checking again later we were offered 1.4.0.71.This looks like another serious upgrade to the Skype family. Another step forward to world domination.Skype