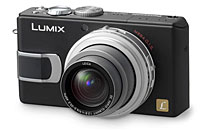 Bibs were hastily donned to soak up the undignified rivers of drooling dribble that appeared in the office when Panasonic first announced the latest addition to their high quality Lumix digital camera range, the LX1, back in July.
It wasn't just the stunning looks, manual control, image stabilisation and crisp wide-angle 4X Leica zoom lens that set our saliva organs into ungainly overdrive – we loved the fact that this was the first camera to feature a 16:9 aspect ratio, using the full 8.4-megapixel sensor.
The 16:9 aspect ratio closely approximates the natural wide field of view of the human eye meaning its dimensions will fill a widescreen TV perfectly.
The camera can also shoot in 3:2 and the more conventional 4:3 aspect ratio, with a switch on the lens barrel making it easy to switch to the format best suited for the composition on a shot-by-shot basis.
Boasting an impressively wide zoom range of 28 mm to 112 mm (35mm equiv), the LEICA DC VARIO-ELMARIT lens should prove ideal for indoor photography, architectural and landscape shots.
Recovering alcoholics and compulsive wobblers will love the optical stabilization system (OIS) that does a great job of steadying the camera at slow shutter speeds and producing sharp images where other cameras would fail.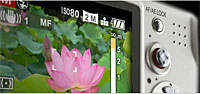 It's no mean feat to fit an effective stabilisation system into a 4.2 by 2.2 by 1.4 inches camera, and users should find it an invaluable feature for low light photography – small cameras can be notoriously hard to hold steady at slow shutter speeds.
As well as a comprehensive selection of 14 scene modes, there's manual controls offering a choice of apertures between f/2.8 and f/8 (adjustable in 1/3-stop increments) at the wide-angle position and f/4.9 to f/8 at the telephoto end.
Shutter speeds can be selected from 8 seconds to 1/2,000 second (60 seconds to 1/2,000 second in manual mode).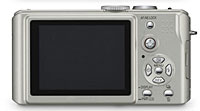 Sensitivity can be set to ISO 80, 100, 200, or 400, with the built in pop-up flash offering coverage up to 13.1 feet in wide-angle mode and 7.5 feet at the telephoto position.
Photo enthusiasts will appreciate the manual focus feature which uses a joystick to fine-tune focus on an enlarged portion of the image, with the same joystick being used to change shutter speed and aperture in manual or shutter/aperture priority mode.
In line with its high end aspirations, images can be saved in JPEG (choice of two compression ratios), TIFF and raw file formats.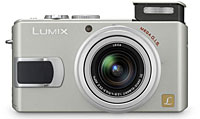 The Leica lens can focus down to two inches in macro modem with focus switchable from spot to single-point, three-point, or nine-point autofocus zones.
For manual and automatic shooting, there's evaluative, centre-weighted and spot metering available.
Wannabe Spielberg's will be tempted by the camera's particularly impressive movie mode, offering an astonishing ultra-high-quality 16:19 Wide VGA film-clip capability, capturing 848×480 sound movies at a smooth 30fps.
Sadly, there's no optical viewfinder on offer, so all framing and viewing of images – and camera fine tuning – is taken care of via the a sharp and bright 207k 2.5-inch LCD on the back panel.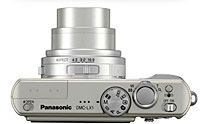 In shooting mode, this presents a wealth of optional information including a handy alignment grid dividing the screen into vertical and horizontal thirds.
With its beautiful looks, enthusiast pleasing feature set, world's first 16:9 aspect ratio and pin-sharp Leica lens, Panasonic look to be on to an absolute winner here – but where is the thing?
Apart from a few, quickly scooped-up, silver versions of the camera appearing online and in central London, most stores are reporting that they are "awaiting stock", with no news of the drop-dead gorgeous black version that we're keen to get our paws on.
A few reviews have cropped up on the web – usually in strange languages – with the excellent DPreview.com offering some pre-production samples that looked mighty fine to our eyes
Worryingly, a promised review on dcresource.com has been "delayed due to technical difficulties" – or, as the author explains elsewhere – because the camera "kicked the bucket."
We hope that that these problems are just pre-production glitches because we've rarely seen such a tempting looking camera.
As soon as we get our hands on one, we'll have a review for you. Soon, we hope!