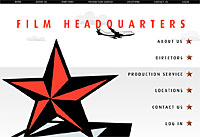 An Australian production company has made what they are claiming is the first music video shot entirely with mobile-phone cameras.
Brisbane-based company Film Headquarters filmed the video for US band the Presidents of the United States of America (P.U.S.A.) in a one day shoot in a studio in Seattle, US.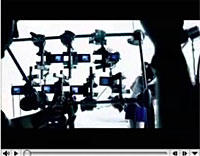 A multiplicity of mobiles (which look like Sony Ericsson k750i's to us) were set up on frames and tripods with handheld footage recorded by four crew members who wandered around the band as they played, with the footage being sent via Bluetooth to laptops.
It was discovered that the quality of the video footage captured on the phones was so bad, the band had to perform at half-speed so that the phones could decently record their movement.
After filming, over 12 angles were added together in post-production to make up one composition or shot.
So what, you may ask, was the point of recording a video on such a crappy medium (phone footage is 1/3000th the quality of standard broadcast) when high quality digicams could have been purchased for a few quid more?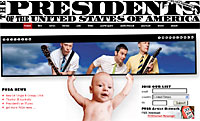 The director of music video, Grant Marshall from Film Headquarters tries to explain, 'We came up with this idea 18 months ago but couldn't find a band that would embrace the risk and vision. P.U.S.A loved the concept and were brave enough to undertake the risk. This was a fantastic experience for all of us. The band was fabulous and incredibly professional."
'The result is great and the look reminiscent of the movies available on Quicktime in the 90s. The funniest part of the shoot was to see a mobile phone sitting on a tripod-it's quite a sight. With mobile phone camera resolutions doubling every few years, people will probably look back and say this idea was 'so 2005′,' he added.
Thing is, we love the idea of DIY media, but with the footage spending two weeks in expensive post-production after shooting, this video hardly marks the dawn of a new age of mobile phone-authored pop videos.