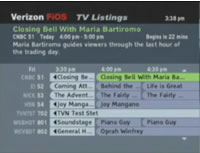 Verizon has launched an IPTV service in Keller, Texas delivered over their fiber-to-the-premises network.
The service will carry High Def (HDTV) as well as the expected Standard Def. The initial offering will include 330 TV channels, over 20 HD channels, close to 600 video-on-demand with 1,800 planned by the end of the year.
The quote from Bob Ingalls, president of Verizon's Retail Markets Group won't exactly be getting the customers running for the phone to place orders. Strapping on his biggest, boldest PR engine, he revved "This is not cable TV. This is not satellite. This is FiOS TV. Customers who liked what FiOS did for their Internet connection will love what it does for their TV. We've harnessed the speed and capacity of broadband with the power of broadcast to create a revolutionary, new entertainment experience." We really hope the offering and services FiOS TV customers contain more content than this empty drivel. (Ed: If you're not adding anything, why bother saying it?)

FiOS Internet connections, or FiOS for Home as Verizon call it, have been available in a number of areas of the US since June last year, including Keller. It provided 15Mb connections from $45/month and 5Mb from $35. At the very expensive end, they've also got a 30Mb offering, but at around $200/month.
With the currently level of video compression combined with connections of that size, there will be no problem delivering multiple TV services (different programmes) to different rooms – even at HD.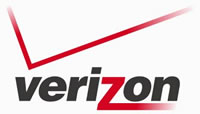 Verizon are offers three set-top boxes: standard definition for $3.95/month; HD for $9.95/month; and a digital video recorder set-top box with HD channels for $12.95 permonth. Content packages between $13/month – $40/month are layer on top of this.
Later this year Verizon expects to roll-out the service to Wylie, Sachseand Westlake, Texas. Following this they plan to head to Florida, Virginia and California.
Verizon FiOS TV (confusingly saying available soon)