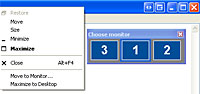 Following on from his review of the Viewsonic VP191s, Mike covers a software utility that works your two screen setup hard.
It wasn't long ago that fancy twin monitor sets ups were the sole preserve of hotshot traders, high-flying graphics pros and, err, security guards, but recent price crashes have seen flat-screen multi-screen set ups becoming more affordable.
Although XP comes with basic twin monitor support as standard, keeping track of all your open applications over two (or more) screens can soon become a pain.
Under XP, arranging windows on each of the different displays involves dragging and dropping them all over the place, and with the taskbar only appearing on the primary monitor, things can soon get confusing.
Ultramon is a smarty-pants application that helps sort out your desktop chaos, making it a breeze to work with multiple displays.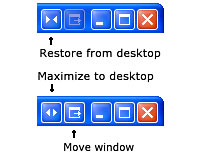 With support for more than ten monitors, UltraMon adds a raft of user-configurable tools to help users get a manly grip on their acres of screen real estate.
The program adds a taskbar to each monitor, and only shows applications from the monitor it is on – so you won't have to rummage around a single taskbar any more.
If you drag an application to a different monitor, its taskbar button will be moved to the corresponding taskbar. Neat.
Moving programs around the screen is also made easier with the addition of two new buttons to the title bar.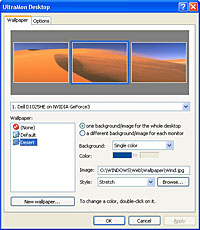 These little fellas let you quickly shunt programs across to other screens with a single click, or maximise a single window across the entire desktop.
Shortcuts can be configured for moving and maximizing windows, with UltraMon's full range of options available by right clicking on the icon in the taskbar.
Amongst its multifarious options, you can create shortcuts that open programs on a specific monitor or at a specific position, or even configure the program to change the display settings before launching an application and then restoring them when the program is closed.
These settings can also be configured by opening the properties of an existing Windows shortcut and fiddling about in the new tabs added by UltraMon.
Keyboard shortcuts can be set up for moving and maximising screens, with 'display profiles' letting you quickly change the settings of one or more monitors for each user.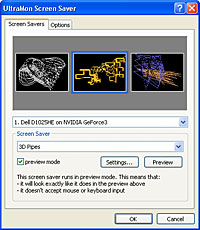 The program also lets you stretch desktop wallpapers and screen savers across multiple screens or set a different picture and screen saver for each screen, which can look way cool!
After running UltraMon for just a few minutes we realised that we could never go back to the clunky, fiddly ways of Windows, so for anyone look to get the best out of their multi-screen set-up, we can thoroughly recommend the program.
Score: 5/5



UltraMon
Cost: $39.95 (~£22~€33)