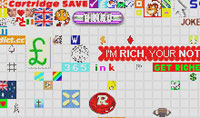 Neat Idea!
A UK student has thought up a unique way of financing his way through university: Selling online advertising space. That on its own isn't unique, but the twist he has applied to it is: He is selling it by the pixel on his "Million Dollar Homepage".
This guy is getting so much media attention as a result of the novelty value of his site that a lot of companies are getting interested in buying pixels from him. The going rate is $1/pixel, and there are 1,000,000 up for grabs… I wonder if he can make it to a million bucks?
This revenue concept started me thinking about what I could do to finance my way through University… I have just under 3 years to come up with something, and it better be good! It seems that finding a niche in the market for something unique and not actually that useful, and then attracting a load of media attention to give it artificial value is a good way of making cash on the Internet. Look out for me following suit in a few year's time!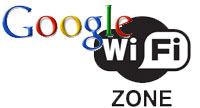 They've done it again
Done what? I hear you ask. Google have launched a Beta version of their Wi-Fi service following a host of rumours since an article mentioning a possible Google Wi-Fi appeared in Business 2.0 back in August.
The service is only available in selected parts of San Francisco Bay (well two locations) for now, but knowing Google I am sure that it will spread relatively quickly.
Part of the evidence is a new product, for free download, that basically works as a VPN client and encrypts all data sent over the Google Wi-Fi hotspots to secure it. Only downside with this is that this application could cause privacy concerns, as Google will apparently record data about people's Web-browsing habits. Still, it has to be paid for somehow and recording the sites people visit fits in with their analysis of the Web so as to aid its online advertising business, Ad-sense. A link to Google's FAQ about their Secure Access product can be found here.
From the point of view of a teenager like me, this sort of service is very good: I don't personally mind giving up a small amount of my privacy to be able to use a service that I could no way afford if it wasn't free. Hell, at 16 I'm not even legally allowed a credit card with which to pay for commercial Wi-Fi services!
As regular readers, Mike caught this story earlier on in the week.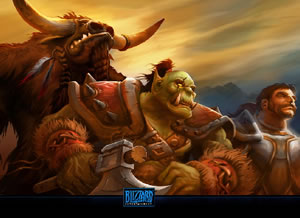 It's like the Middle Ages all over again!
This story is quite apt as I am currently suffering from the current real-life equivalent of the virtual plague documented by The Register. Yes, that's right, I've caught the flu :-(
Anyway, according to The Register, World of Warcraft, a popular massively multiplayer online role playing game (MMORPG), has been hit by a plague. Blizzard, the company behind the hugely succesful game, introduced a new god character to their game called Hakkar. What's special about him is that he carries some sort of disease, similar to HIV, that spreads to some of the people that he attacks. These people then spread the disease further and further, which has resulted in a large quantity of the World of Warcraft servers becoming infected by it.
It's a new concept and just brings us even closer to where we start blurring the line between reality and virtual reality. It also shows that virtual reality can have all the nasties that the real world does too.
Anyway, I am off to bed, forget World of Warcraft, I'm ill and need to go to school tomorrow. Just hope I don't spread the "plague">