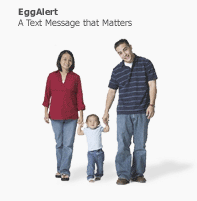 A new text-messaging service called EggAlert wants to help women to keep better track of their menstrual period. The service calculates a woman's next ovulation time and sends a tet message (SMS) to her cell phone altering/warning her she at the hight of her fertility. While the Website of EggAlert focuses on women who want to become pregnant, we're thinking the service could also be used as a form of contraception.
According to EggAlert.com the service can also be used both as a Notifier for the upcoming premenstrual symptom, to schedule certain events around the time of menstruation and as a reminder for women who want to do self breast examinations.
Some Questions are left open: According to the Website, the service is available worldwide, but seems only be on-hand for customers with a billing address in the US and Canada. That's why we could not get through to the signing-up process to check if more than one cellphone number could be handled. As it would be nice to send a message to the partners cellphone too.
While claiming that the service "increases your ability to naturally select a boy or a girl." PDA Healthware, Inc. does not provide any statistics about happy customers, nor any testimonials. We would love to hear about the first Text Message enabled pregnancy.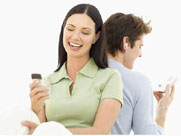 We can see a long term merging of with company will be a quick dating service when it's linked with location-based data.