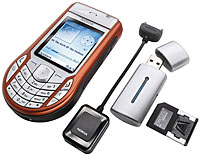 Acting like they're fearful of not appearing hip to the mobile music revolution, Nokia have added their own rival to the Apple/Motorola ROKR and Sony Walkman phones, a special edition of the highly rated Nokia 6630 – despite having had music-playing on their phones for yonks.
Shipping later this month, the Nokia 6630 Music Edition offers a new music player and a bundled memory card to offer "enhanced music functionality."
The updated music player bundles in a 256mb RS-MMC (with memory card support up to 1 gig), which Nokia claims will hold up to 15CDs of music, giving it an edge over the 100 iTunes song limit on the Motorola ROKR.
Music can be transferred to the phone using the included Nokia PC Suite software or with the bundled Nokia USB MMC/SD reader, with the Nokia Audio Adapter letting users plug in their favourite headphones (or "cans" if you're a DJ) into the standard 3.5 mm stereo jack.
"The Nokia 6630 Music Edition is a fantastic combination of music, smartphone and 3G," frothed Tuula Rytilä-Uotila, Director, Imaging EMEA, Nokia."
"You can carry a good portion of your music collection with you wherever you go and with the Nokia Audio Adapter, you can quickly connect your favourite set of music headphones," Tuula added.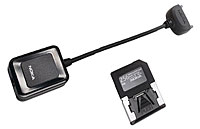 The phone comes in two colours – Aluminum Grey for hip, fast living, city slickers and Rustic Red for cow-bothering, straw chewing, country types.
Being based on the well-rated Nokia 6630, the phone also includes a 1.3 megapixel camera, mobile broadband access with WCDMA networks, mobile email and streaming video.
Nokia have also launched the Nokia Music Pack, a bundled package of enhancements for mobile music, which includes the Nokia Audio Adapter, the Nokia 256 MB MMC Card, the Nokia USB MMC/SD reader and Nokia Stereo Audio Cable.
The only question we've got – is where's the Nokia N91 we got excited about last month?