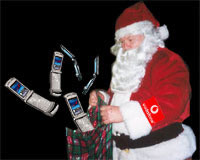 Vodafone plans to unleash a swarm of new 3G mobile handsets in the run-up to Christmas as the company tries to turbo charge mass market adoption of its third-generation (3G) mobile service.
The world's biggest mobile operator will adding a total of 15 phones to their portfolio.
Ten of the new phones will be exclusive to Vodafone, with six targeted at entry-level customers in an attempt to encourage the mass market take-up of its 3G services.
"We are confident that this is going to be a 3G Christmas," ho-ho'd Chief Marketing Officer Peter Bamford.
This rings (festive?) bells with us, giving us a very strong feeling of Deja Vu as we heard 'Vodafone's betting heavily on 3G this Christmas' in November 2004. Perhaps Vodafone thing that saying it two months earlier this year (Sept vs Nov) will 'make it happen'.
The period before Christmas is traditionally a bumper trading period for mobile phone operators, and Vodafone is confident that its festive offering of MP3 playin', video and audio streamin', video call-makin' 3G phones will send sales soaring.
The new phones
The entry-level phones will include two handsets each from Sharp and Samsung and one each from Motorola and Sony Ericsson – all exclusive to Motorola.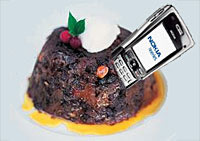 The non-exclusive handsets will include the hugely popular Motorola RAZR V3x phone, the Nokia N70 and 6280, and Samsung's SGH-Z500V and SGH-Z140V phones.
Four of the new handsets – two each by Sharp and Toshiba – will be targeted at the well heeled, with the Limited edition Sharp 902 Ferrari serving up exclusive Ferrari content for those folks impressed with that kind of thing.
All of Vodafone new 3G phones will offer new services, with the company hoping to tempt users to regularly dip into their catalogue of 500,000 full-track music downloads and mobile TV services and content.
Vodafone launched their 3G service in November 2004, and was reporting 3.3 million 3G customers by June this year.
The company expects big things from their 3G service, forecasting 10 million customers across its businesses to be using 3G mobile video and picture phones and high-speed laptop cards by the end of this financial year in March 2006.