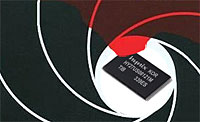 Hard drives are soon to go the way of 8 track cartridges and steam powered radios according to Samsung's semi-conductor CEO Dr. Chang Gyu Hwang.
Coming hot on the heels of the launch of their 16Gb NAND flash chip using 50nm technology, Hwang reckoned that all the hep cats would soon be dumping their unfashionable hard drives and hanging out with the solid-state flash memory crew.
"NAND flash technology development continues to double density growth on an average of every 12 months," Hwang observed, while quietly giving a nearby hard drive a few hard kicks.
A dimly-lit colleague stroking a white cat added, "This year, it appears clear that NAND will surpass NOR as the most popular flash memory."
NAND flash memory is currently widely used in digital cameras, mobile phones, USB flash drives and portable music players such as Apple Computer's groovy new iPod Nano.

With a cackle in his voice and a size nine sending a RAID array skywards, Hwang reckons that we'll soon be seeing laptop memory cards with 32GB of memory, based on multiple 16Gb flash chips.
NAND flash uses a 50nm process which shrinks the flash memory to just 0.00625 square microns per bit, 25 per cent down on the previous 60nm process.
Forcing a rough screwdriver into a helpless hard drive, Hwang predicted that these mega-chips will appear late in 2006 or in 2007, based on mass production of the new Samsung chips in the second part of 2006.
If the HD-torturing Samsung head honcho is right, we can expect to see a 32Gb NAND chip this year, enabling hefty 64GB memory cards, followed by 128GB memory cards next year.
With this kind of NAND flash storage capacity, Samsung's plans to ruthlessly wipe hard drives off the face off the earth could begin to take shape.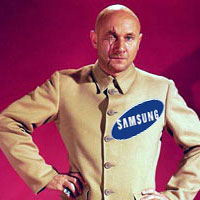 A big advantage of using flash memory in notebooks is that the technology is resistant to the sort of mechanical shocks that can often knacker a hard drive.
But the technology isn't perfect, with flash chips having a finite life in read/write cycle terms and increased memory card costs and power consumption.
With analysts predicting $1.7bn (£930m, €1.38m) in revenues for NAND memory this year, global NAND flash memory revenues are expected to reach $9.4bn (£5.15m, €7.65m) and Samsung is looking to cut themselves a large slice of that lucrative pie.
In another part of their south-Korean HQ, Samsung unveiled a new 7.2-megapixel CMOS image sensor for high-end digital pictures and fusion semiconductors for next-generation smartphones and PDAs.