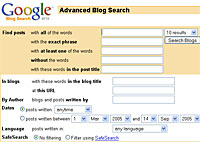 Google's virtual world domination plans continue afoot with the beta launch of their new blog search service, making the company the first major search engine to offer comprehensive blog and feed search capabilities.
After snapping up Pyra Labs – the folks behind the hugely popular Blogging publishing service – over two years ago, bloggers have been waiting patiently for Google to implement their promised blog search.
Although Google's current Web search lets users rummage around blog formats such as RSS and XML, the new search facility aims to include all blogs that publish a site feed (either RSS or Atom).
According to Jason Goldman, Google product manager for blog search, their shiny new search engine scans content posted to blogs and feeds in virtually real-time.
"We look for sites that update pinging services, and then we crawl in real-time so that we can serve up search results that are as fresh as we can," said Goldman.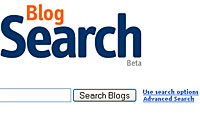 Google's new service (sporting its trademark, no-frills interface) can be found at google.com/blogsearch and at www.search.blogger.com with a Blogger branded design.
How the searching works
The Google Blog Search works exactly the same as the regular Google search with results being sorted by date and recent posts appearing at the top of the list.
Results can also be searched by relevance, using a technology based on Google's Web search ranking algorithms.
An advanced search interface is available with options to specify titles, authors, languages and more.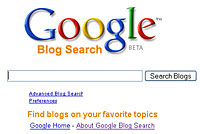 The Blogger version comes with a branded interface with an extra "use search options" link giving access to most common search advanced options, like searching in specific posts, entire blogs or specifying a date range to search within.
Results can also be limited to a specific language, with the option to apply the Safe Search filter to results.
You can discover who's linking to a post or blog using the link: command, and blog searches can be saved as an alert that gets updated any time new content is posted matching you query.
Getting your blog listed
You can't manually submit your site at present, but Google say that they'll be introducing the feature shortly.
Currently, Blogs that publish a site feed in any format which automatically pings an updating service (such as Weblogs.com), should be picked up.
Google Blog Search is available in English as well as Brazilian Portuguese, Dutch, French, German, Italian, Korean, Russian, and Spanish, with additional languages on the way.
google.com/blogsearch
www.search.blogger.com
Google Blog Search FAQ